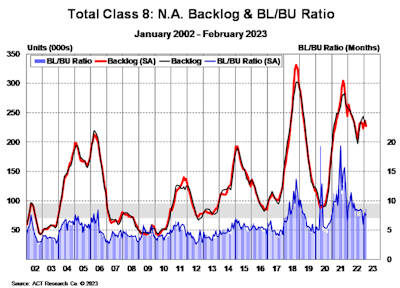 Class 8 truck builds slowed in February, ACT Research announced in its most recent State of the Industry report this week.
According to the firm, Class 8 build rate for February was 1,277 units per day, up nearly 14% year over year but down 7.6% from January and 7.4% below industry build plans. ACT Vice President and Senior Analyst Eric Crawford says those total meant the backlog to build ratio remains flat on a seasonally adjusted basis at 7.8 months. He also notes the 93,500 units in the backlog scheduled for the second half of the year are "considerably below" the 133,000 units scheduled for 2022's second half this time last year.
"Trucking industry demand rolls on seemingly unabated," Crawford says, "with retail sales unphased by higher interest rates, as pent-up demand remains for now. Encouragingly, Class 8 retail sales remain robust, and February heavy-duty orders rebounded off a particularly weak January. That said, we expect momentum to shift in second half of 2023, as the Fed continues its aggressive push to subdue inflation."
[RELATED: Economists forecast stability for 2023 truck sales]
Crawford notes in the medium-duty space, Class 5-7 build rate in February was 872 units per day, down year over year but up compared to January. The backlog to build ratio in the Class 5-7 sector is now 7.2 months on a seasonally adjusted basis.
Crawford adds the backlog of unbuilt medium- and heavy-duty Classes 5-8 orders declined 4,300 units to 368,800 units (371,000 seasonally adjusted), representing a second consecutive month of decline. "Class 8 backlogs declined 1.2% to 230,800 units, while Classes 5-7 backlogs declined 1% to 138,000 units," he says.