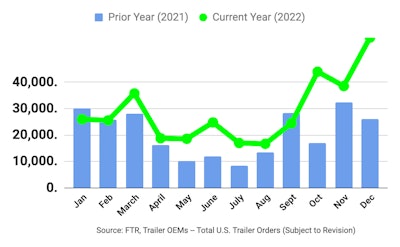 FTR reported Monday that U.S. trailer net orders jumped in December, hitting a new monthly record of 56,949 units, which barely eclipsed the previous record set in October 2020.
FTR says order activity for the month was up an astounding 121 percent versus December 2021. Backlog levels also returned above 200,000 units with an increase of another 17 percent with the surge in orders.
December build was down another 8 percent month over month but up 17 percent year over year. Build output was on the low end of the range of recent activity, but adjusting for holiday downtime would eliminate most of the gap, FTR says. Lower build and a jump in end-of-year factory shipments caused the inventory levels to drop by 18 percent month over month, the company adds.
The strong monthly data also corresponds with ACT Research's strong analysis of the trailer market last week.
"The surge in orders is unlikely to be sustained going forward, and we have already seen strong moderation in Class 8 orders. However, we have now seen more than 347,000 orders placed over the last 12 months, and backlogs are at their highest level in nearly two years," says FTR CEO and Chief Intelligence Officer Jonathan Starks. He adds 2023 is starting on solid footing "even as the macro uncertainty remains extremely elevated."