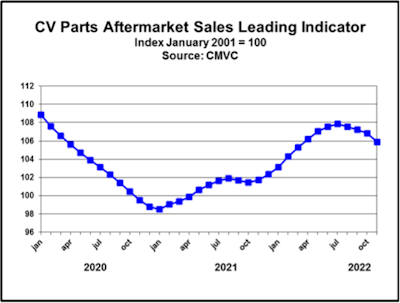 Commercial Motor Vehicle Consulting (CMVC) reported Thursday its Parts Aftermarket Sales Leading Indicator (PLI) decreased 0.9 percent in November, following a decrease of 0.4 percent in October.
CMVC says PLI has decreased for four consecutive months and the decline in PLI appears to be accelerating, signaling decelerating growth rates of parts aftermarket sales in the coming months.
"Three of the six variables that make up PLI were negative in November and the factors that were positive, the improvements are slowing," says CMVC President Chris Brady. "The fleet business environment is changing as freight growth slows causing fleet capacity utilization to trend downward from evaluated levels with risks of fleet capacity utilization decreasing to low utilization rates as a result of evaluated risks of a recession in 2023."
CMVC does note PLI was 4.1 percent higher in November 2022 than November 2021, but monthly growth rates from year ago levels are slowing. CMVC reports PLI remains at a relatively high level, so is signaling slowing growth in parts aftermarket sales in the coming months rather than decreasing parts aftermarket sales, but the risks to the parts aftermarket sales outlook are on the downside due to evaluated risks of a recession in 2023.
"Low fleet capacity utilization implies a significant slowdown in the rate at which the truck population depreciates, thereby dampening parts aftermarket sales, and the actions taken by fleets in response to low truck utilization further dampen parts aftermarket sales. Currently, fleet capacity utilization is trending downward from evaluated levels, so the truck population is depreciating at normal rates spurring parts aftermarket sales," Brady says.