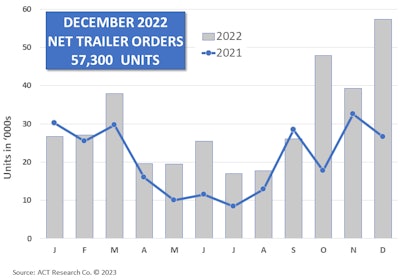 Trailer orders boomed in December, ACT Research announced in the State of the Industry: U.S. Trailers report Wednesday.
ACT pegs December orders at 57,300 units, up nearly 46 percent compared to November and 115 percent above December 2021. The company says the total is the second highest month since it started tracking trailer orders in 1996.
"Discussions in the last 30 days continue to indicate 2023 is not yet fully open, despite OEMs expanding availability. Supply-chain concerns still linger, with some manufacturers sharing that the situation for some parts has actually deteriorated and they see no short-term improvement in sight," says Jennifer McNealy, director, commercial vehicle Market Research & Publications.
"Regarding demand, most trailer makers continue to see demand exceeding capacity through the end of 2023; although, some have mentioned an erosion in confidence, but are also quick to note that this hasn't appeared in the form of cancellations."
McNealy adds, "The year closed with 361,500 net orders placed, exceeding the previous year's 249,400 level. Approximately 306,000 trailers were built in 2022, and our projections point to a continuation of that upward trend into 2023."