Following are personnel changes and announcements in the trucking industry:
* Todd Galgoci recently joined East Manufacturing as Great Lakes regional representative.
* Horton, Inc., has hired Michel Locquegnies as director of international business development. He will focus on Horton's continued development of international markets, particularly Asia and Latin America

* Phillips Industries announces that Randy Therneau has joined the company as Account Manager OE Trailer. In his new role, Therneau will be responsible for OEM sales, servicing trailers and specialty vehicles.
* Michael Cardone Jr., chief executive officer of Cardone Industries Inc., has been selected as the first chairman of the newly formed Motor & Equipment Remanufacturers Association (MERA), an affiliate association of the Motor & Equipment Manufacturers Association (MEMA).

* Hansen International, Inc. has announced the promotion of Dennis J. Sadler to director of engineering of the Lexington, S.C. based engineering, manufacturing, and global sourcing company of commercial and industrial vehicle hardware and trim systems.
* Russ Lucas has been hired to fill the new position of Severe-Duty Fleet Manager for Webb Wheel Products, Inc. –Transit Business Unit.
* Grote Industries announced that it has appointed Bill Fleming to lead its West coast sales team as the company's new aftermarket Western regional manager.


* Eaton Corporation announced that Kenneth F. Davis has been named president – Vehicle Group, effective January 1, 2011, succeeding Joseph P. Palchak who has announced his decision to retire at the end of June 2011.
TCP National Survey: Truckers Optimism Still Up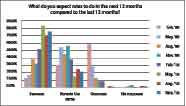 Transport Capital Partners, LLC (TCP) has completed its Business Expectation Survey for the fourth quarter of 2010 and found that 66 percent of surveyed carriers expect volumes to increase over the next year.
"At this time last year, about the same share of carriers expected volumes to increase, but a peak of almost 90 percent was hit in the second quarter of 2010" says Richard Mikes, TCP partner. Furthermore, Mikes noted that the hopefulness that characterized the spring has waned in recent quarters as economic growth has slowed.
With more than three-quarters of carriers expecting rate increases in the next year, optimism remains high. This was the second highest level in two years. "TCP's surveys from the last two years indicate that carriers have become more confident that volumes and rates will increase during the next year, despite the modest drop in the last two quarters," notes Lana Batts, managing partner for TCP.
"Larger carriers are more upbeat in this environment," according to Mikes. "More of the carriers over $25 million in revenue saw rates go up in the last three months than did the smaller carriers." This was reflected in future rate expectations as well, according to the survey.
Batts went on to say, "Smaller carriers are facing increasing adds fuel, equipment and financing constraints and must recover more costs soon." Mikes adds that shippers "will be hard pressed not to accommodate cost pressures coupled with the restricted supply of trucks and drivers that is likely to continue."
Commercial Vehicle Registrations Rebound
Commercial vehicle (GVW Class 3-8) registrations in the U.S. during the first nine months of 2010 were 269,650 units, up 9.6 percent over the same period last year, according to Polk. Additionally, the used commercial vehicle market achieved a new record of registrations during a nine-month timeframe at 524,500 units.
This historic volume represents 66 percent of the commercial vehicle market and an increase of 18.7 percent over the same timeframe in 2009. Combined registrations of new and used commercial vehicles in the first nine months of 2010 were 794,200, representing a 15.5 percent increase over the same period last year.
New commercial trailer (24 feet or longer) registrations during the first nine months of 2010 were up 42.2 percent over the same period last year, to 76,125 units. The strength of the new trailer market is strongly influenced by dry and refrigerated van trailers, which typically account for about 64 percent of total new trailer registrations, according to Polk.
During the first nine months of 2010, new van trailer registrations were up 75.2 percent from the same period last year and represented about 72 percent of new trailer registrations. Grain, flatbed and hoppers round out the top four trailer types registered during the first nine months of 2010.
"While new trailer registrations remain below record levels set in 1995, this improvement is significant and indicates that the market for both commercial power units and trailers has turned around after three consecutive down years," says Gary Meteer, director, sales and client services at Polk. "There is a strong correlation between GVW 8 registrations and the registration of new commercial trailers through the first nine months of 2010 – as both have shown increases," he continues.
The strong market for used commercial vehicles is most evident in GVW 8 vehicles, which represented almost half of the total used commercial transactions during the first nine months of the calendar year, compared to about 42 percent in 2009. Used GVW 8 transactions were 37 percent higher during the nine months in 2010 versus the same period last year.
VIPAR's Crowley Receives Northwood Leadership Award

Stephen R. Crowley, president and CEO of VIPAR Heavy Duty, has been named a recipient of the 2010 Northwood University Automotive Aftermarket Management Education award.
In recognizing Crowley, it was noted by Northwood University: "For more than 30 years as an industry professional, Stephen R. Crowley has understood and valued the importance of sharing knowledge and developing young people for work in the heavy-duty aftermarket business."
Crowley's educational contributions include the development of a Distributor Education Series while working for Chicago Rawhide. He also played a part in the development of a training series for all distributor personnel for the Council of Fleet Specialists (CFS).
SSA Establishes Giebner Scholarship

The Service Specialists Association announced the establishment of the Cara Giebner SSA-GAAS Scholarship to honor the organization's longtime executive director who retired at the end of 2007.
"This was a unanimous gesture on the part of the SSA Board of Directors," says outgoing President Liz Burleson-Barrett. "As so much more than just the association manager, for 27 years Cara has been a close personal friend and beloved associate to many SSA members."
The scholarship in the amount of $1,000 will be awarded to a deserving student each year who is enrolled in a heavy-duty oriented educational program and planning a career in the aftermarket.
For technician students that might be able to benefit from this scholarship, the eligibility requirements and application instructions are available online at www.automotivescholarships.com.
The scholarship will be administered by and awarded through GAAS (The Global Automotive Aftermarket Symposium). n