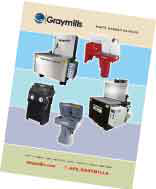 New All-In-One Parts Washer Resource Catalog
Graymills' Selecting the right parts washer and choosing your cleaning action introduce you to information and helpful tips in the parts washer/cleaning fluid selection process.
The catalogs display the full line of aqueous, solvent, ultrasonic and bioremediation parts washing equipment available from Graymills. Parts washer features and specifications, including a cleaning fluid reference chart for identifying specific applications, are included.
Graymills
Visit tpsdigital.com/info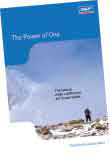 SKF Releases Distributor Economic Booklet
SKF recently released its Power of One booklet — the second booklet introduced in the SKF Distributor Economic Series.
The Power of One booklet is written to help automotive and heavy-duty aftermarket distributors realize their full sales potential, and explains how every contribution — no matter how small — can have a large effect on the bottom line. The booklet now is available through the new SKF Distributor Portal located on the SKF VSM web site at www.vsm.skf.com.
SKF
Visit tpsdigital.com/info
New Pre-Assembled Wire Harness Kits Catalog
Phillips Industries has released a new trailer harness catalog listing its new series of STA-DRY sealed harnesses. With the recent expansion of its Phillips Electrical Harness Division facility, the company now is producing pre-assembled, "plug n' play" sealed wire harness kits for many trailer applications with short lead times at competitive costs.
The catalog, available for download at www.phillipsind.com, arranges wire harnesses by trailer type to simplify selecting the right product for the right application.
Phillips trailer harnesses are built to withstand the most extreme environmental conditions, protected against moisture, corrosion and failure, according to the company. Molded material on all plugs bond to cables and molded connections to keep moisture and contaminants from penetrating the electrical system.
Phillips Industries
Visit tpsdigital.com/info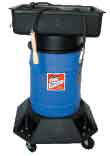 No Electricity Need With New Brake Washer
Oil Eater Professional Brake Washer is said to clean brake parts without using electricity. The air-powered washer comes with a cover that also functions as a catch basin.
It is designed for use on alignment lift/ramp lifts or on the floor, and also can be used as a portable parts washer.
A one-gallon bottle of Oil Eater Original cleaner/degreaser is included. Oil Eater is non-toxic, non-corrosive, non-flammable and biodegradable.
The brake washer is made of industrial-grade HDPE plastic and includes a heavy-duty air pump with adjustable regulator, flow-through brush with adjustable solution valve, dual filtration systems and four swivel casters, two of which lock.
Fluid capacity ranges from a minimum level of 8-gallons to a maximum level of 12-gallons. The basin is 20-in. wide by 24-in. long and 7-in. deep. Overall dimensions are 28-in. wide, 28-in. long and 42-in. high.
Oil Eater
Visit tpsdigital.com/info
New Model 180 Transfer Case And Split Shaft PTO
Accuride Corporation's Fabco Automotive division announced the release of the new TC-180 Single Speed Transfer Case and PTO-180 Split Shaft PTO. The new gearbox family allows customers to expand vehicle capabilities without significant design changes necessary to integrate the Fabco product.
Features include:
* Design of a new high strength precision cast main housing;
* Use of new high-capacity forged helical gearing;
* Increasing lubricant capacity with a larger oil sump;
* Revisions to lubricant flow compared to the Model 170; and
* Use of a military-proven Fabco proprietary lubrication pump.
The Model PTO-180 Split Shaft PTO is designed for applications such as oil field well service, water well and geotechnical drilling, hydro-excavation and other critical vocations. The new model allows the truck engine to power high capacity hydraulic and mechanical systems, thereby eliminating an auxiliary deck engine.
The Model TC-180 transfer case is designed for on/off highway all wheel drive vehicles, with a variety of end uses, including military, electrical utility, municipal, construction, mining, logging and oil field applications.
Accuride Corp., Fabco Div.
Visit tpsdigital.com/info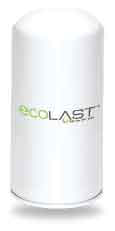 Wix Filters Releases Filter To Double Oil Life
Wix Filtere, a member of the Affinia Group, has released a new filter designed to double engine oil life. The new product, named ecoLAST, is designed to slow acid releasing inside the filter and improve anti-oxidant, anti-wear features in the oil for the life of the filter, the company says. The company also says the ecoLAST oil filter could save fleets more than $125 per truck per year.
According to Wix, the ecoLAST filter is designed to capture dirt and soot like a traditional filter, but also features a new technology designed to sequester acids in the oil. By sequestering the acids, the ecoLAST filter allows a heavy-duty truck to go twice as far on a single change of oil, the company says. The average heavy-duty truck drives 80,000 miles and requires four oil changes per year. According the Wix, the ecoLAST is capable of cutting those four oil changes (and the corresponding costs), in half.
Wix Filters
Visit tpsdigital.com/info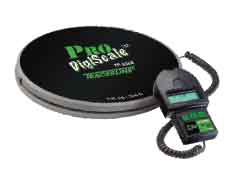 High-capacity Refrigerant Scale
Tracer Products has unveiled the new TP-9366 PRO-DigiScale — a high-capacity, refrigerant scale that accommodates cylinders up to 220 pounds. The scale is said to feature "best in class" load cell accuracy, within +/- 0.25 oz. The box provides measurements in pounds, kilograms or decimal pounds.
The control head features a large LCD, and an automatic shut-off mode. The PRO-DigiScale comes complete with a weighing platform, control head, communication cable and 9V alkaline battery. All components are packed in a plastic carrying case.
Tracer Products
Visit tpsdigital.com/info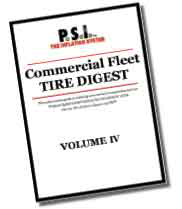 Fleet Tire Digest As Spiral Bound Book
Pressure Systems International is now offering a full set of Volume IV Commercial Fleet Tire Digest issues as a spiral bound book. The Commercial Fleet Tire Digest is published 11 times per year and is said to be a comprehensive and authoritative guide to reducing tire expenditures. Every issue discusses a subject of particular interest to fleet operators and other concerned with tire safety, wear and costs.
Separate books for each previous year 2007 (Volume I), 2008 (Volume II) and 2009 (Volume III) also are available by request. Books can be ordered and past issues of the Commercial Fleet Tire Digest can be viewed and downloaded at http://www.psitiredigest.com/archive.
Pressure Systems International
Visit tpsdigital.com/info

New Line Of Electric Torque Wrenches
Stanley Proto has added new ratcheting head models to its line of electronic torque wrenches. The new wrenches accept standard Proto sockets, and come in ¼-in., 3/8-in., and ½-in. drive versions with torque ranges from 25 in-lbs (2.8 Nm) to 250 ft-lbs (339 Nm).
The fixed ratcheting head torque wrenches are accurate to within two percent of indicated value in both directions (compared to four percent clockwise and six percent counter clockwise on mechanical models). This broad accuracy range extends from 10 percent to 100 percent of full scale. In addition, 99 "on-board" memory storage locations help improve efficiency when taking multiple torque readings, according to the company.
The fixed ratcheting head features a 24-tooth design with a 15 degree arc swing, an alloy steel drive gear, a low profile and a reversing lever design.
The torque wrenches come with many of the same features and benefits as Proto's existing electronic torque wrenches. These include: an LCD display, three units of measure available, a rotating head and a fast sampling rate that ensures the wrench will measure peak torque the moment it's reached, the company says.
The new wrenches operate on standard 9-volt batteries. They are manufactured to meet or exceed ASME B107.28. Users also have the option of purchasing Proto software that allows for full two-way communication between the torque wrench and a personal computer.
Stanley Proto
Visit tpsdigital.com/info
ASA Electronics Announces Observation System
A new development in mobile electronics has been put on the market by ASA Electronics. The new Voyager digital wireless observation system is designed to provide clear, up-to-the-second views of the rear and sides of all Class 8 vehicles and eliminate blind spots, ASA said. The Voyager uses ASA WiSight technology, which the company says exceeds the performance of any analog wireless system. The Voyager has a signal strength of more than 60 feet.
The Voyager package includes a 5.6-in. LCD color monitor with integrated receiver, one 12-volt accessory plug, a suction cup monitor mount, one rear color camera with integrated transmitter, stainless steel hardware and non‐corrosive camera mounting bracket.
ASA Electronics
Visit tpsdigital.com/info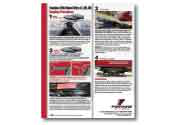 Fontaine Releases Fifth-Wheel Video
Fontaine Fifth-Wheel has released a safety video and brochure outlining the proper uses for its newest fifth-wheel products — the Ultra LT, Ultra HD and Ultra HR. The video runs eight and half minutes and features live-action demonstrations for each step of the coupling and uncoupling process. The brochure has photos and instructions.
The Ultra family of fifth wheels uses a patented lock design that requires specific coupling, sliding and uncoupling procedures.
Fontaine Fifth Wheel
Visit tpsdigital.com/info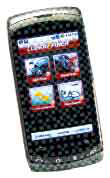 New Luber-finer Phone App
Luber-finer has released a new phone application for smartphones that run on Android operating systems. The "app" can be downloaded from the Luber-finer website, and the company says it is designed to provide installers with one-click access to filter product searches and cross-reference information.
"This new phone app is designed specifically to help installers of Luber-finer filters get access to filter information right at their fingertips so they can turn their bays faster and make more money", says the company.
In addition to its product search, the new app also allows users to look up Luber-finer distributors and resellers. According to the company, the app covers medium and heavy-duty aftermarket distributors.
Luber-finer
Visit tpsdigital.com/info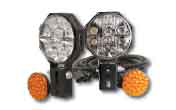 Snow Plow Kits Improves Visibility
Truck-Lite announced the release of its new LED Snow Plow Kit.
The LED kit not only improves overall visibility for the vehicles plowing busy roads and highways, but the lamps also are highly visible by oncoming traffic, according to the company.
Truck-Lite's LED snow plow kit, part number 80863, is composed of a right- and left-hand lamp assembly as well as appropriate harness. Each right/left lamp assembly includes an LED headlamp, bracket and pedestal turn signal lamp.
Truck-Lite
Visit tpsdigital.com/info