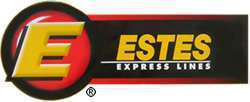 Estes Express Lines has selected Bendix Commercial Vehicle Systems LLC to provide a full-stability system for its 1,200 commercial vehicles.
Based in Richmond Va., Estes Express Lines is a shipping solutions company that includes global and custom solution systems. Estes will use Bendix's Electronic Stability Program (ESP) to implement its new corporate stability plan.
"Safety is our highest priority at Estes and the Bendix ESP system provides our vehicles with added roll and directional stability in severe weather and driving conditions," says Mike Palmer, Estes' vice president of fleet services.
Bendix full-stability solution is a comprehensive product that addresses roll over and directional stability. According to Bendix, full-stability systems recognize and mitigate conditions that could lead to rollover and loss-of-control situations sooner on dry surfaces and in a wider range of driving and road conditions, including snowy, ice-covered and slippery surfaces.
"Fleets continue to recognize the benefits of utilizing full-stability technology to help mitigate rollover and loss-of-control accidents, help improve driver safety, as well as protect fleet and driver safety records — especially with the advent of CSA 2010," says Bendix Director of Marketing and Controls Fred Andersky. "We are pleased to extend our previous relationship with Estes Express Lines by providing them Bendix ESP to help improve the safety of their fleet."