Stone Truck Parts Named Distributor Of The Year
Only eight years after opening, Stone Truck Parts has been named the ninth annual Truck Parts & Service Distributor of the Year.
Led by Keith McLemore and Don Purcell, Stone Truck Parts was named this year's winners out of a tough field. Other companies nominated for the award were Cook Brothers, Drive Train Industries, Pascale Service Corp. and Wheelco Truck and Trailer.
The main goal for Stone Truck Parts is customer satisfaction. Purcell says the company takes great pride in pleasing its customers while providing a quality product and top-notch service.
"We believe a rule of thumb is 100 percent customer satisfaction," Purcell says. "When I say that I mean you don't substitute any products, clarification and speed of handling warranty, core management — all facets of what makes this business what it is.
Based in Charlotte, N.C., Stone Truck Parts is a member of the HDA Parts Network.
People in the News
Following are personnel changes and announcements in the trucking industry:
* Phillips Industries has promoted Travis Hopkey to the new position of global business development manager. The new position is part of a growing global organization within Phillips established to better serve the world-wide market for the company's products.
* Ted Hughes, formerly marketing team leader – Program Development, has been appointed manager – Marketing for Mahle Clevite Inc. In his new position, Hughes will lead the company's Marketing Department efforts to oversee promotions, public relations, advertising, motorsports-related programs, and the advancement of all electronic and web-based activities.
* Firestone Industrial Products Company, LLC has named Steve Roberts North American heavy-duty original equipment sales manager. Roberts succeeds Mark Hilburger, who now serves as the division manager for marketing.
* Mahle Clevite Inc. has appointed Jeff Rayburn as heavy-duty and turbocharger sales manager. Rayburn will be responsible for leading the overall heavy-duty strategy for the company. While maintaining his own heavy-duty accounts, Rayburn will work closely with the company's sales team to further expand their knowledge of the heavy-duty aftermarket.
* Herb Brown has joined Commercial Vehicle Group as a sales manager for the company's Industrial Markets and Parts division.
* Matt Resch has been appointed program and market manager for Haldex Friction and Remanufactured Products.
* Accuride Corporation has promoted John Younger to vice president of aftermarket sales, and has hired Michael Keyes to the position of account executive for Paccar.
* Matt Weinzapfel and Ryan Dooley have been promoted to new positions at Jasper Engines and Transmissions. Weinzapfel is now the company's vice president of engine manufacturing, and Dooley has moved into the position of diesel division manager.
* Richard Dauch has joined Accuride as the company's new president and CEO.
For the latest aftermarket news, announcements and trends, visit www.truckpartsandservice.com
Karmak Celebrates 30th Anniversary
Throughout 2011, Karmak, Inc. will celebrate its 30th anniversary of providing technology business solutions to the heavy-duty trucking industry.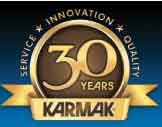 From 1974 until 1981, Schien Body and Equipment employees Richard Schien and Alan Weller designed and built a heavy-duty software system from the ground up. Driven by a lack of adequate system options in the heavy-duty industry and their need for these technology resources, the Karmak Business System was conceived.
Karmak was founded in Carlinville, Ill. in 1981 by Schien and began with three employees, including co-developer Alan Weller and current chief technology officer, John Lebel. Karmak began marketing the industry's first all-inclusive computer system to heavy-duty businesses.
Currently, Karmak supports 500 customers at approximately 1,800 locations throughout the United States, Canada and Latin America. The company became employee-owned in 2004, and has more than 200 employees specializing in areas such as inventory control, service shop management, accounting, new and used truck sales, information technology and systems engineering.
Company executives attribute Karmak's longevity and success in a rapidly changing industry to one simple philosophy — the optimal industry solution. According to Schien, founder and current chairman of the board, "Customers are always going to purchase the software that is the best business solution. Our goal is to always be that best solution in the industry."
To commemorate the company's 30th anniversary, a celebratory open-house style event will be held later this year, allowing customers, community, associates and friends to visit and celebrate with company employees. Additional anniversary events are planned throughout the year, such as at the annual Karmak Technology Conference & Expo, an annual training event for Karmak customers held in St. Louis.
Kellers Inducted Into Hall Of Fame
Don and Wayne Keller, former owners of Keller Truck Parts, Baltimore, Md., were presented with the 2011 Heavy Duty Aftermarket Industry Hall of Fame Award in recognition of their contributions to the industry. Presented by R.L. Polk & Co., the award recognizes an individual's length of service, impact on and commitment to the industry, as well as thought leadership.
The Kellers started their business in 1971 and grew it to 11 locations in Maryland and Delaware, before selling to FleetPride in 2008. What set the Kellers apart was their dedication to customer service.
In accepting the award, Don Keller said, "This is more than I could imagine for myself. This is the final ace in the industry for me." He reflected back on the first day he and Wayne opened their business. "We had one thought. And that was to be successful." He credits Keller Truck Parts' employees for the business' success, saying, "Without good employees you can only go so far."
Wayne went on the thank industry suppliers. "We could not have done anything without the suppliers who gave support to us."
TWNA Announces 2010 Technical Achievement Award Finalists
The Truck Writers of North America (TWNA) announced the finalists for the top technical achievement of 2010 during the annual Technology & Maintenance Council (TMC) meeting.
The review process began with candidates nominated by the press members of TWNA. Using a point system based on each committee member's ranking of the candidates, the four highest scoring products were selected as finalists for the 2010 Technical Achievement Award.
The "Top Four" finalists are:
* HMP Thermal De-Icer from Heat Matt;
* Wheel Torque Solutions from Alcoa & Partners;
* 14X Tandem Drive Axle from Meritor; and
* Bose Ride System from Bose.
The winner of the 2010 award will be announced at TWNA's Industry Awards Banquet on March 31st at the Mid American Trucking Show.
This year marks the 20th anniversary of the Technical Achievement Award. "In 20 years as the sponsor of the trophy, we have seen the positive impact it has had across all manufacturing sectors," says John Grote, vice president of sales & marketing for Grote Industries. "I want to praise TWNA for highlighting worthy technical advancements and for raising industry-wide awareness of the importance of technological innovation."