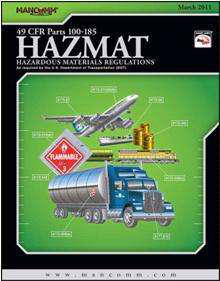 Mancomm has published its March 2011 edition of the Department of Transportation's Pipeline and Hazardous Materials Safety Administration (DOT/PHMSA) regulations.
Topics covered in this month's book include texting while driving, the carrying of hazardous materials that require placarding and any quantity of selected agent or toxin listed in Department of Health and Human Services' "Selected Agents and Toxins" list.
The PHMSA also has released a historic update to harmonize its HazMat regulations with international regulatory changes. According the Mancomm, the PHMSA is implementing enhanced inspection, investigation and enforcement authority conferred on the Secretary of Transportation by the Hazardous Materials Transportation Safety and Security Reauthorization Act of 2005. The PHMSA has amended HazMat regulations by incorporating provisions contained in certain widely used or longstanding cargo tank special permits.
"HazMat regulations change on an ongoing basis," says Benjamin W. Mangan, Mancomm president. "It is important to keep updated on industry issues and their related regulations. This is especially important now that global harmonization is growing in importance. Safety trainers and other industry professionals need to prepare for the extensive changes that global harmonization will bring."
The Mancomm DOT/PHMSA regulations handbook is available as a 600 page soft cover book or as a CD rom.