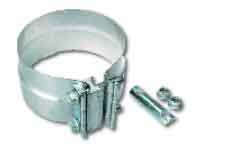 TRP Introduces Exhaust Program
TRP Aftermarket Parts announces the availability of a new line of quality exhaust mufflers, pipes and clamps for different configurations and different budgets.
With its new exhaust program, TRP offers aluminized and chrome-plated tubes, Y-pipes and stacks, plus premium flex hoses in a variety of materials and pre-cut sizes. The stacks also come in a range of lengths and configurations, including straight, west coast, curved and monster in both 4-in. and 5-in. diameters.
The mufflers include an extended 18-month warranty and reduce noise to meet U.S. Environmental Protection Agency requirements for noise abatement.
The TRP exhaust program offers operators a choice of good, better and best models of mufflers. All three models meet OEM back pressure specifications and offer internal support flanges on inlets and outlets to ensure long life.
For operators who need a quieter muffler, TRP offers a premium muffler that reduces the noise level by up to five decibels compared to the performance of its standard muffler. And for customers who need a muffler with low restriction for use on trucks with higher horsepower engines, TRP offers a top-of-the-line muffler that reduces the noise level by up to another three decibels as compared to the better model.
The clamps offered through the TRP exhaust program use 304 stainless steel bright material and bands with pre-attached hardware with force bars, nuts and reaction blocks to eliminate tearing on installation. A stepped band design for lap joints provides fast, accurate installation and a better seal.
The program offers customers a choice of good, better and best clamps to match their operating needs and budgets. TRP's best clamp comes with a pre-formed band and heat-resistant gasket material. The gasket is said to increase the clamp's sealing capacity by more than 50 percent over the performance of a standard stainless steel clamp with a flat band.
TRP Aftermarket Parts
Visit tpsdigital.com/info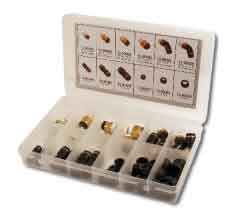 Air Fittings Kits
Phillips Industries has put together two new combination kits holding its most popular QWIK-FIT Push-to-Connect Composite Air Fittings. Each kits contains a collection of male connectors, straight unions, 45 degree male elbows and dust boots in various sizes typically used in everyday air line repairs.
The parts are assembled in containers that keep them secure and in one place whether in a truck cab or at a technician's work area.
The 80-1291 Travel Kit measuring 6 ½ in. x 10 ½ in. contains 48 pieces and the 12 in. x 18 in. Shop Kit contains 110 pieces.
Phillips Industries
Visit tpsdigital.com/info
Heavy-Duty U-joints
Dana Holding Corporation has introduced a line of permanently lubricated, heavy-duty U-joints. The new SPL-250 and SPL-170 are designed for main and tandem-drive inter-axle driveshaft applications.
Dana has beefed up the performance and durability of its entire line of SPL heavy-duty U-joints to coincide with the introduction of the SPL-250 and SPL-170. Enhancements include a new bearing package with larger needle bearing for increased capacity, a Viton synthetic seal for improved grease retention and a thermoplastic seal guard to better protect against grease contamination.
The new SPL U-joints now are available to all heavy-duty truck OEMs. Warranty coverage of up to four years or 400,000 miles is available for linehaul applications.
Dana Holding
Visit tpsdigital.com/info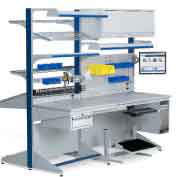 Modular Workstation Offer Flexibility
Lista International Corporation announces the Arlink 8000 Modular Workstation System. Ergonomically designed, these modular workstations are said to offer unlimited flexibility to accommodate changing or future needs. Suited for a variety of applications, including service and repair, Arlink 8000 workstations can be assembled and reconfigured faster than other workstations, according to the company.
These workstations are available in five standard industry widths and in three different heights up to 84 in. The "starter and adder" system, with the option of back-to-back configurations, enables unlimited layout possibilities to adapt to any space or support any process requirements.
The Arlink 8000's Definite Positioning System is said to make relocating or adjusting worksurfaces, storage, shelving, lights, power beams, footrests, etc. fast, easy and safe. The virtually tool-free assembly and reconfiguration process allows the user to make unlimited changes to the workstation. Worksurfaces are available in standard laminate or static dissipative. The Arlink 8000 system is also available on casters to create mobile workstations or parts carts.
Lista International Corp.
Visit tpsdigital.com/info
New Friction Material Sales Sheets and Application Guide
Marathon Brake Systems has published a new series of brake lining sales sheets as well as a new application guide, designed to improve and simplify the brake lining selection process. The sales sheets represent Marathon's full line of friction products, suitable for vocations ranging from general over-the-road freight to transit and severe-duty applications.
The 12 sheets offer detailed information on each lining, allowing a technician to determine the right friction material for his customer's application.
Marathon Brake Systems
Visit tpsdigital.com/info

Cube Work Lamp Available
Grote Industries introduces its new 4-in.-by-4-in. Trilliant Cube LED WhiteLight Work Lamp.
The lamp is the newest member of Grote's Trilliant LED WhiteLight Work Lamp Portfolio.
It was specifically designed to fit a 4-in. (10 cm) square format.
The lamp has a service rating in the range of 50,000 hours and features two beam patterns. Grote says it has further refined its wide flood pattern to produce a more penetrating beam that reaches farther.
The lamp comes in three versions, each with a unique connector style. The female receptacle on the back of the first version of the lamp accommodates the AMP connector style, the second version of the lamp features an AMP Superseal connector style, while the third version supports the Deutsch two-pin sealed connector.
The Trilliant Cube LED WhiteLight Work Lamp operates on both 12-Volt and 24-Volt systems.
Grote Industries
Visit tpsdigital.com/info

PreSet Plus Hub Assembly
Consolidated Metco (ConMet) introduces PreSet Plus, hub assembly. ConMet builds on the success of PreSet, its existing hub assembly, of reducing wheel end maintenance by adding features that it says make PreSet Plus the most advanced hub assembly on the market. PreSet Plus addresses the requirements of today's heavy-duty trucks and trailers.
Features include:
* An integrated spindle nut design;
* The patent pending nut to increase clamping, improve safety and eliminate adjustments;
* An optimized bearing;
* Field serviceable components;
* Pre-adjusted bearings (no bearing adjustment is required);
* Long life oil seal;
* Magnetic fill plug; and
* Simplified re-installation
PreSet Plus hub assemblies are available in aluminum for lightweight solutions and in iron for non-weight sensitive applications. There are designs for steer, drive and trailer axles as well as for disc and drum brakes.
ConMet
Visit tpsdigital.com/info
New Luber-finer Phone App
Luber-finer has released a new phone application for smartphones that run on Android operating systems. The "app" can be downloaded from the Luber-finer website, and the company says it is designed to provide installers with one-click access to filter product searches and cross-reference information.
In addition to its product search, the new app also allows users to look up Luber-finer distributors and resellers. According to the company, the app covers medium and heavy-duty aftermarket distributors.
Luber-finer
Visit tpsdigital.com/info