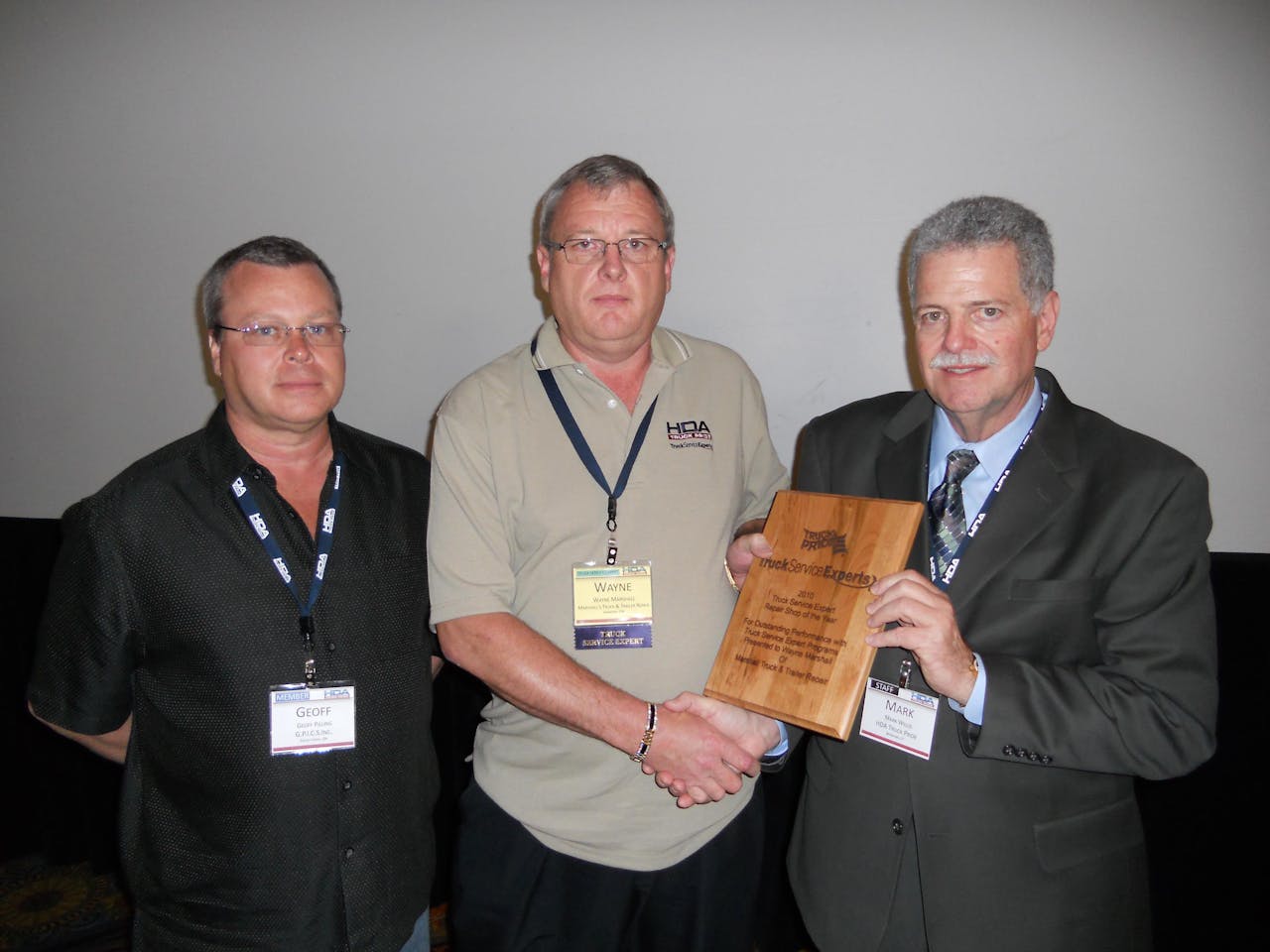 HDA Truck Pride is proud to honor Wayne Marshall of Marshall Truck and Trailer Repair Limited in Hamilton, Ontario, Canada as the 2010 Truck Service Expert of the Year.
HDA Truck Pride gives out its Truck Service Expert of the Year award annually, and selects its winner from a network of more than 400 independent repair garages. According to the organization, the program provides a unified identification and marketing program to promote and enhance the independent repair professional, along with providing technical training, business training, ancillary services, fleet networking and business growth opportunities.
HDA Truck Pride says key characteristics of Expert of the Year winners include:
Providing exemplary service to their customers
Exceeding the product support requirements of their sponsor
Endorsing the Truck Service Experts Code of Ethics
Participating in the Truck Service Experts training programs
Implementing the Truck Service Experts marketing tools
Promoting and supporting the Truck Service Experts program within their marketplace and across North America
This year's winner has been in the industry for nearly 30 years. Marshall Truck and Trailer Repair Ltd, a family owned and operated company, opened for business in 1984. Only 14 at the time, Wayne started in the family business washing trucks. He progressed to driving trucks and eventually went to school to become a technician. Today that single-pump fuel
station with a two-bay shop has developed into a seven-pump fuel station with nine service and repair bays, two wash bays and two diagnostic bays.
Wayne Marshall was submitted as a candidate for TSE of the Year by Geoff Pilling of GPICS – Stoney Creek, ON, his sponsoring HDA Truck Pride member. In addition to the story of this successful family business, and the focus on exemplary customer service, the characteristic that sets Marshall above others is his commitment to the industry and his community.(according to who?) In 2010, the Marshall Family donated $1.2 million to fund the Gerald Marshall Centre for Transportation at Mohawk College in Hamilton, Ontario. This state of the art technical school graduates some of the best mechanics in Canada.
Marshall was honored with the Truck Service Expert of the Year award during the HDA Truck Pride Annual Membership Meeting.