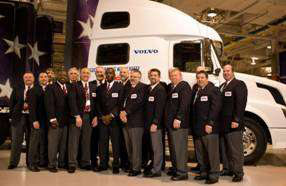 During the American Trucking Associations' (ATA) Management Conference & Exhibition in Grapevine, Texas, Volvo announced its ongoing support of America's Road Team, which uses professional drivers with outstanding driving records to deliver messages about highway safety and the essentiality of trucking.
"All of us at Volvo Trucks are very proud to be part of the ATA's America's Road Team program," says Ron Huibers, Volvo Trucks North America senior vice president, sales and marketing. "As one of the most important and effective highway safety efforts out there, the program fits perfectly with Volvo's core value of safety."
The members of America's Road Team are known as captains, many of whom have accumulated millions of miles of accident-free driving, Volvo says.  They undergo a rigorous selection process to become part of the program.
The Road Team captains speak to hundreds of groups of lawmakers, government officials, students, regulators and other truck drivers. According to Volvo, their presentations include safe driving tips and highway safety information, much based upon their own experiences, as well as the importance of trucking to the American economy.
Last January, at its New River Valley plant in Dublin, Va., Volvo Trucks presented a new VN 780 to the Road Team captains and ATA officials. The new truck features – Volvo safety technologies, including Volvo Enhanced Stability Technology by Bendix and Volvo Enhanced Cruise).  It's also equipped with the Volvo I-Shift automated manual transmission. Since receiving the truck, the Road Team captains have been using it to transport the ATA Image Trailer, a mobile presentation facility, around the country, as they spread the industry's messages of safety.
"The Road Team captains are the ultimate trucking ambassadors," Huibers says.  "With their passion and track record for safe driving, they are making our roadways safer for everybody."