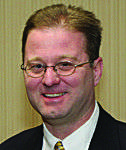 Rick Sippola has been named director of business development for VHD Equipment Network, LLC, a subsidiary of Vipar Heavy Duty. In his new role, VHD says Sippola will be responsible for growing membership in the organization and training distributors to take advantage of all member services.
"(Sippola) has a deep understanding of the work truck industry, we are excited to welcome him to his new role with our organization," says Chris Baer, vice president of Vipar Heavy Duty and VHD Equipment Network. "As a former distribution executive, (Sippola) understands how we can help distributors become more profitable in their local market by becoming part of our larger network. He has the ability to help distributors build more profitable relationships with suppliers, enhance their cash flow and improve their bottom line."
Sippola is the founder and president of Chautauqua Consulting and the former president of Carnegie Body. He previously served on the board of directors of the National Truck Equipment Association.