Can we find 35,000 more technicians?
While truck driver recruiting receives far more attention, it's not exactly easy to get qualified diesel technicians. The minimum training required to be a technician is greater, and many jobs require certification — something that's generally not required of truck drivers.
If your organization has trouble finding qualified technicians, what will things be like in 2020? According to projections released recently by the Bureau of Labor Statistics, in 2020 we will need 277,400 diesel service technicians and mechanics, which is 35,000, or 14.5 percent, more than we had in 2010.
The challenge doesn't sound as daunting as the one driver recruiters have, which, according to BLS, is to hire 330,100, or 20.6 percent, more drivers. And you must be 21 to get a commercial driver's license, so driver recruiters can't hire directly from the demographic most suited to the work: High school grads or those who aren't going to college.
The government foresees 14.5 percent more diesel techs between 2010 and 2010
On the other hand, the vast majority of people over 16 have the most basic skills needed to drive a truck, and it only takes a few weeks to turn a four-wheel driver into an 18-wheel driver. The portion of the population that is mechanically inclined, at least enough to earn a living as a technician, is far lower.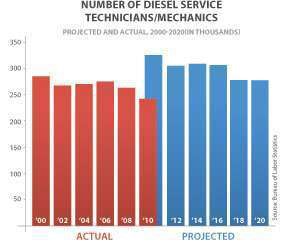 In the just-released 2012-2013 Occupational Outlook Handbook (available online at www.bls.gov/ooh), BLS sees trends increasing the demand for technicians as well as countervailing trends. "As more freight is shipped across the country, additional diesel-powered trucks will be needed," the agency says. "As a result, diesel mechanics will be needed to maintain and repair the nation's truck fleet."
BLS also believes that a need to retrofit and modernize trucks to comply with environmental regulations will create additional jobs for diesel mechanics.
"Overall employment growth, however, may be dampened due to increasing durability of new truck and bus diesel engines," BLS says. "Continuing advances in repair technology, including computerized diagnostic equipment, also will result in fewer mechanics doing the same amount of work, further reducing demand for mechanics."
That's all reasonable analysis, but one very recent trend BLS might not be taking into account is the potential move to natural gas as an alternative to diesel. BLS acknowledged the impact of environmental worries, which might have sparked the interest in natural gas.
But rock-bottom natural gas prices now have fleets looking at the technology, which could add to the demand for technicians with additional training.
Still, perhaps you shouldn't get worked up over the BLS analysis as the agency's record on forecasting is hardly enviable. The forecast BLS released in 2002 of employment in 2010 was for 325,600 diesel technicians — 83,400 more than the number actually employed that year.
True, nobody anticipated the Great Recession, but that's a big difference. BLS, however, seems to have learned its lesson given that its 2020 forecast is nearly 50,000 below its 2010 projection.
Companies looking to hire diesel technicians do have one advantage. According to BLS figures for 2011, the average annual wage for diesel technicians is $42,910 — $4,350 more than automotive service technicians and mechanics and $3,080 more than truck drivers.
And unlike truck drivers, technicians don't usually have to spend weekends on the road, sleep in their trucks and shower in truck stops. Diesel service providers need to do a better job telling that story.
Avery Vise is executive director, trucking research and analysis for Randall-Reilly Business Media and Information.