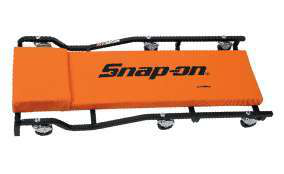 Welding Creeper For Technicians
Designed for safety as well as comfort, Snap-on says its new Welding Creeper is the perfect addition to any environment that does welding and cutting.
The dimensions of the creeper are 40 in. long, 17 in. wide and 4 in. high. Snap-on says the headrest pad is 2.75 in. thick and the pad is 1.75 in. thick, while the creeper also has ball-bearing swivel casters and only weighs 16 lbs.
Snap-on, Text INFO to 205-289-3544 or visit www.tpsdigital.com/info

Heavy-Duty Shocks
The Original Gabriel (Ride Control, LLC) announces it is now distributing its Fleetline and GasSLX products to heavy-duty aftermarket suppliers and distributors.
Gabriel says it heavy-duty lineup includes Fleetline 83000 series shocks for Class 3-6 vehicles , Fleetline 85000 series for Class 6-8 trucks, buses and trailers, Fleetline cab shocks and GasSLX, an adjustable shock for Class 7-8 trucks and buses.
Gabriel, Text INFO to 205-289-3544 or visit www.tpsdigital.com/info

Diesel Engine Heat Monitor
Unique Truck Equipment released a new tool to test and monitor the function of block heaters, fuel tank heaters, battery heaters and oil pan heaters.
According to Unique Truck Equipment, The Power Block – Block Heater Tester identifies a failing heater by testing volts, amps, and watts before the unit becomes inoperable.
Unique Truck, Text INFO to 205-289-3544 or visit www.tpsdigital.com/info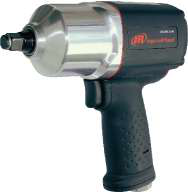 Standard Impact Socket Tool
Ingersoll Rand has released its latest product, the 2350XP quarter-inch composite Impactool.
The 2350 XP operates with a 6-vane motor and twin-hammer impact mechanism, delivering 690 ft.-lbs. of reverse torque, Ingersoll Rand says. The composite housing and lightweight aluminum hammer case make the 2350XP just 4.1 lbs.
The 2350XP is said to offer technicians optimal control so they can perform multiple tasks with one tool. It also reduces noise levels in the service bay, while the large grease fitting makes it easy to maintain the tool, the company says.
Ingersoll Rand, Text INFO to 205-289-3544 or visit www.tpsdigital.com/info

Synthetic Engine Oil
Shell Lubricants' Shell Rotella T6 0W-40 is a full-synthetic heavy-duty diesel engine oil designed for extreme cold conditions.
The oil uses free-flowing synthetic base oils formulated to allow reliable pumping on startup under extremely cold conditions, yet remain thick enough under high-temperature operation to protect against engine wear, Shell says.
Shell Rotella T6 0W-40 meets the specifications for API CJ-4, API SN, Volvo VDS-3, Mack EO-N and Caterpillar ECF-3, ECF-2 and ECF-1A.
Shell Lubricants, Text INFO to 205-289-3544 or visit www.tpsdigital.com/info
Winter Airflow Control Product
Airman has released Wingman, its newest airflow control product designed to help prevent snow and ice accumulation on axles, airlines, taillights and undercarriage components.
According to Airman, Wingman can provide a minimum 5 percent fuel economy increase, and the company says it will reimburse customers who don't see those benefits. The product also is said to provide top-quality ground clearance, stability in cross winds, spray control in wet weather, cooler running tires. Wingman is installed next to the rear axles and moves with the axles. Airman says Wingman's compact design prevents damage from curbs, railroads, or large elevation changes in skirt-unfriendly docks.
Airman, Text INFO to 205-289-3544 or visit www.tpsdigital.com/info

Round, Oval LED Lamps
Optronics International has introduced its GloLight Series 4 in. round and 6 in. oval LED stop, tail, turn lamps.
All the lamps in the new GloLight Series meet all FMVSS 108 and SAE photometric requirements for visibility and safety. The lamps come with a lifetime warranty, Optronics says, and are made of polycarbonate material that is sonically welded.
The lamps are said to employ a solid-state, surface-mount device design that protects their electronics against moisture, shock and vibration.
Optronics, Text INFO to 205-289-3544 or visit www.tpsdigital.com/info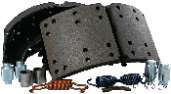 New Aftermarket Brake Linings
TRP has introduced an aftermarket brake program that offers brake linings for both 20,000- and 23,000-lb. applications.
TRP says it offers a range of remanufactured brakes engineered for medium- and heavy-duty trucks and trailers in many different applications, from city delivery to heavy-haul. The range also includes severe-service brake products for high-heat, high-duty-cycle applications like bus transport, refuse collection and construction, the company says. TRP remanufactured brakes are engineered to perform to new-brake standards.
TRP, Text INFO to 205-289-3544 or visit www.tpsdigital.com/info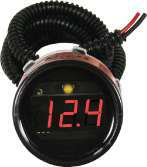 Updated Battery Status Indicator
Phillips Industries has introduced the next generation of its V-Check battery status indicator.
The V-Check II digitally monitors the state of power for any battery, particularly lift gate batteries, to ensure all work that needs to be performed can be performed, the company says.
The Phillips V-Check II also features a large display surface for the digital read out of the battery state of charge. Both the voltage measurement and percentage of battery life remaining appear every 15 seconds.
Phillips says the LED light feature instantly shows if the battery is ready to complete the day's work.
Phillips Industries, Text INFO to 205-289-3544 or visit www.tpsdigital.com/info

Heavy-Duty Oil Filters
Luber-finer has launched a new line of Heavy-Duty Time Release Technology (TRT) filters with a liquid additive integrated into the filter.
The company claims its TRT oil filters provide a controlled release of a specially formulated and concentrated liquid additive into the oil supply, helping the oil maintain its quality longer.
To optimize the benefits of this additive package, Luber-finer TRT oil filters deploy a patent-pending release mechanism, which dispenses the additive in a linear manner to help combat harmful acids that build up over time.
Luber-finer, Text INFO to 205-289-3544 or visit www.tpsdigital.com/info
New Trailer Retread Tire
Oliver Rubber has launched its ULP Trailer (Ultra Low Profile), a U.S. Environmental Protection Agency (EPA) SmartWay verified retread for wide base single tires.
Oliver says ULP Trailer is designed for long haul wide-base trailer applications and delivers enhanced fuel efficiency, providing significant value and performance.
The new tire also features VDi Plus, which provides easy visual tread depth and reduces the lodging of foreign material abates, the company says.
Oliver Rubber, Text INFO to 205-289-3544 or visit www.tpsdigital.com/info
Heavy-Duty Connector
Maxi-Seal Harness Systems, Inc., a division of Peterson Manufacturing Company, has received patent approval on the industry's first hard shell J560 connector for heavy-duty trucks, trailers and trailer dollies.
Maxi-Seal says the design utilizes a strong connector and flange that is engineered to hold up against snow and ice build-up better than integrally molded flange designs. A strong, flexible flange snaps onto the connector for easy installation while the use of an over-molded engineering-grade resin ensures a durable bond between the black hard shell connector and the gray overmold, the company says.
An integrally molded ring gasket inside the connector seals the face of the socket to keep out moisture and harsh corrosives, Maxi-Seal says. The connector is available in straight and right-angle versions.
Maxi-Seal, Text INFO to 205-289-3544 or visit www.tpsdigital.com/info

Synthetic Oil Introduced
Champion Oil introduced has released its Synthetic 75W-140 Racing Gear Lube.
Built for high-performance applications, the new gear lube is engineered for gasoline and diesel vehicles and is recommended in severe-duty applications, Champion says.
According to Champion Oil, the 75W-140 Synthetic Racing Gear Lube outperforms conventional gear oils by providing exceptional anti-wear characteristics and cold-flow properties.
This new gear oil is designed to lubricate components with extreme-pressure additives that are more viscous than those found in other fluids, Champion says.
Champion Oil, Text INFO to 205-289-3544 or visit www.tpsdigital.com/info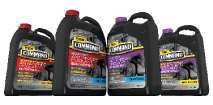 New Coolant Products
Prestone Products Corporation has introduced its new Prestone Command product line to the heavy-duty aftermarket.
The new line features Prestone Command Extended Life and Extended Service antifreeze products, in addition to Prestone Command DEF fluid, which the company says is compatible with all SCR-equipped heavy-duty engines.
According to Prestone, the new line is available exclusively to the heavy-duty market, and will begin shipping in March. Both antifreeze/coolant products are available in 1-, 55- and 264-gallon totes, Prestone says. Prestone says its new DEF product is available in 2.5-, 55- and 330-gallon totes.
Prestone Products, Text INFO to 205-289-3544 or visit www.tpsdigital.com/info
Advanced Filtration Technology
Cummins Filtration has announced its new NanoNet line of fuel filtration products that utilize nanotechnology in the filtration media.
According to the company, the new media provide an exceptional level of efficiency and harmful particulate removal, and mark the first time that a nanotechnology-based filtration media has been commercially developed for fuel filtration products within the industry.
NanoNet fuel filtration products exhibit between 7 and 13 times greater retention of harmful particles within the fuel filtration media during engine vibration and fuel surge than competitors, Cummins says. Fuel surge results in a fluctuation of fuel flow within the system whenever the engine's output is increased or decreased, the company says.
The nanotechnology-based NanoNet filtration media is available on the following Cummins Filtration FleetGuard products: FF5810; FF5811; FF5812; FF5813; FF5814; FF5815; FF5816; FF6817; FF5819; FF5823; FF53093; FS53001 and FS53002.
Cummins Filtration, Text INFO to 205-289-3544 or visit www.tpsdigital.com/info