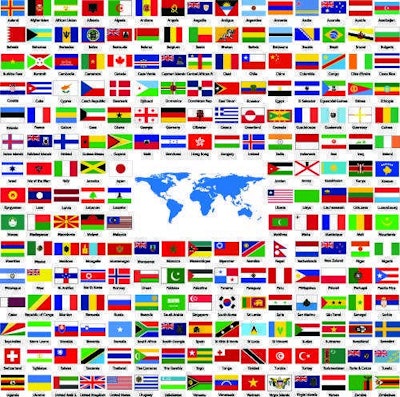 First introduced in North America decades ago, globalization allowed overseas truck OEMs and component manufacturers to enter the North American marketplace with their products and services, and spurred domestic manufacturers to branch out as well.
Globalization united an industry that had historically operated independently at different locations across the world.
Now globalization is commonplace.
Customers don't bat an eye when buying parts assembled in North America using raw materials from Asia and a European design.
But just because aftermarket customers are comfortable with globalization doesn't mean we've mastered it. There are benefits and drawbacks to how globalization has been instituted in North America, and all of those factors are on display in the market.
To truly understand how globalization has evolved in North America, you have to go back to the start.
"Cummins has had a global presence for nearly 60 years," says Tracy Kiser, the company's on-highway marketing communications manager. "By 1955 Cummins engines were being sold in [more than] 110 countries and Cummins had 140 sanctioned sales or service organizations outside the United States."
Many companies took a similar approach, but it wasn't until European truck OEMs Daimler and Volvo entered this market more than 30 years ago that globalization truly exploded in North America.
European suppliers quickly followed the OEM migration and North American businesses were equally active, expanding their facilities overseas.
It was a busy time for the industry.
"The aftermarket people didn't fire the first shot, we followed the OEMs," says Rick Hoffman, vice president and partner at S&S Truck Parts. "I would say back in the 1970s maybe 10 to 15 percent of [the industry's] products were being imported into the U.S., then that number exploded and was constantly growing."
There were many reasons for the expansion, the two largest — reduced production costs and expanded market share — going hand in hand.
"In order to get economies of scale it was necessary to not cover just one area," says Joe Klesing, vice president of engineering for Haldex, North America. Formed as a Swedish company, Haldex expanded across Europe and into the United States more than three decades years ago.
The business acquired the American company Midland-Grau in 1998, and now has 23 production locations in eight countries across three continents.
Klesing says that expansion followed the needs of the marketplace.
"There were certain developments — like ABS brakes coming in the United States — where we saw an opportunity to bring a technology here and took advantage."
A similar strategy led the creation of SAF Holland, says Bill Hicks, the company's director of product planning and marketing development, axles and suspensions – trailer systems.
"The fusion between SAF and the Holland Group was mainly motivated by growth opportunities and offered the possibility to regionally expand and enlarge [our] product portfolio," he says.
Since the globalization boom, the North American heavy-duty truck has evolved from predominately American-made to a product of the world.
"I cannot name a single [truck] component that is entirely manufactured in the U.S. anymore," says Kenneth Calhoun, vice president of customer relations at Truck Centers of Arkansas.
Just lift the hood on the nearest truck and write down the country of origin on every valve, hose, clamp and component you find. By the time you're done the list will resemble the Olympics' opening ceremonies.
Worldwide commerce, that's globalization in a nutshell.
OEs, for example, started by purchasing raw materials and simple components from suppliers around the globe; then followed by adding locations near those raw materials. Each step lowered production costs and expanded capabilities.
And moving overseas didn't solely benefit their business on our soil. For example, once North American OEs reached other continents they branched out, building components for the trucks operating in those areas of the world as well.
Such is the case at Bergstrom, says Bill Gordon, the company's vice president of aftermarket and NITE sales.
"Our customers have driven our expansion on a global basis and will continue to do so. While we always look for partners that have existing synergies to aid our expansion, if none exist we are open to starting from scratch if necessary."
Globalization also can improve product design.
The more people you have working to design a product, the better it can be.
"For the most part with [globalization] you get the benefits of a lot more minds, which keeps prices down and ingenuity up," says Kirk Altrichter, vice president of maintenance at Gordon Trucking and TMC general chairman.
When North American and European OEMs were assembling products specifically for their own markets, there were two separate and distinct styles for how trucks were built.
Europeans favored smaller, fuel-efficient trucks with sophisticated yet standardized equipment and elaborate safety systems — the latter a requirement due to strict European regulations.
North American trucks, on the other hand, were much larger, with a greater emphasis on power and hauling capabilities. Safety equipment was included, but not to the extent required overseas. Sophistication and standardization were often afterthoughts.
The two markets still have differences, but are now closer than they've ever been, particularly in areas of safety.
Europe's safety and emission regulations have been drivers of innovation in that market for ages. As the North American market has started to catch up, global manufacturers have started introducing their European components to this customer base. Backed by years of success overseas, these advancements have taken hold in North America.
Hicks says SAF Holland provides a "more robust and tested product" when it enters a market (like North America) after a successful debut elsewhere, and producing the component for both locations allows the company to keep pricing lower.
Adds Klesing: "I definitely think it helps that whenever something new comes here from [Europe] it has a track record. The technology is already proven; so integrating is just a matter of adapting it to local circumstances."
Altrichter says that helps, but notes that some results of globalization, like sophistication and standardization, are frustrating to end users because they limit what they can spec into their vehicles.
The North American truck market is unique in that fleet customers still have some negotiating power in how trucks are assembled and designed. That's not the case in Europe, where OEMs spec trucks independent of customer influence.
North American OEMs have slowly attempted to add that strategy here, and it has been met with considerable resistance, says Darry Stuart, president and CEO at DWS Fleet Management.
Stuart says fleets recognize and appreciate the added components and sophisticated electronic systems OEMs are producing thanks to global influences. But adding them to vehicles without customer input goes against the principles the North American market has operated under for many years.
Globalization works best if it aids the market, not changes it, Stuart says.
"In the end they will come out with a great product, but they had a great product before they used sophistication," he says. "There's no need to overcomplicate things."
But not every change has been negative, or European influenced. Innovation is not a one-way street.
Mike Delaney, CEO at WheelTime, says products are entering the trucking market every day from all over the world. Innovation can now come from anywhere.
"When you have a broader base from which to expand, you have more sources of innovation and you have more opportunities to invest in innovation," he says.
Gordon says Bergstrom "literally has engineering taking place 24-hours per day somewhere in the world," and the quest to improve their products is never ending.
Yet it's not an easy task.
Low-production costs are definitely available throughout the globe, but finding a supplier that can offer a low price and a quality part is a daily challenge for manufacturers.
Innovation is moot if new products are assembled with sub-standard components.
Hoffman says S&S Truck Parts maintains rigorous standards for all of its overseas suppliers. The company tests prospective supplier products before entering into business with them and has regularly scheduled quality control checks for all of its components.
He says S&S does not hesitate to sever ties with a supplier who falls below its standards.
Michael Menta, director of engineering at Dorman HD Solutions, says his company is equally cautious. Dorman has a qualification process each supplier must go through before it partners with them, and all products are sent through a quality audit before entering a Dorman assembly plant.
It's not a simple task, but it's what it takes to remain successful in the global marketplace today. Besides, there is no greater risk for a supplier than a customer losing confidence in its brand due to sub-standard parts.
"I think brand expectation, rather than where [a product] is made, really drives sales," says Steve Crowley, president and CEO at VIPAR Heavy Duty.
Customers supported globalization in North America because they trusted their brands, and Crowley believes the manufactures that remain successful in the global marketplace today have done so because they've made sure to never let their customers down.
After all, what good is a brand name if its perception is negative?
"There are some private-branded parts out there where you don't know where they come from," says Lyle Bass, president at The Power Train Companies. "When you open that box you don't know what you're getting."
Bass says his company does not buy anything direct from overseas, and will not add a private-label brand without first putting the product through extreme quality tests.
The risk is simply too great. Globalization has provided the North American market with a wealth of products, but every part is not created equal.
"You have to be very careful," says Delaney.
As a fleet manager, Altrichter says he researches the market and works with OEs, dealers and aftermarket partners to make sure Gordon Trucking is adding the right parts to its fleet.
That's a service Delaney says all aftermarket businesses should provide. A solutions provider has to know what solutions are out there, and Delaney says WheelTime is constantly working to understand everything globalization has brought to North America.
Bass agrees, adding Power Train prides itself on sifting through the aftermarket and stocking the best components for its customer base. Not every customer has time to do the research, so Power Train does it for them. That creates value for the customer, he says.
"Our customer base trusts who they are buying their products from," he says. "We can't destroy our reputation by carrying an off-brand or saying Product B is as good as Product A."
Hoffman appreciates that kind of filtering in the marketplace. "Bad products reflect poorly on everybody."
Luckily Calhoun believes most customers have a good grasp on the globalized marketplace. "I think at the end of the day we service a pretty smart and savvy group of customers.
"They are looking for the best, lightest product out there with the lowest cost of maintenance," he says. "That's what they expect. It doesn't have to be from a particular place; it just has to do the job."
Globalization is here to stay.
"Cummins belief is that trucking will continue to grow globally," says Kiser. "While Europe and North America have relatively mature truck markets, developing countries [such as the BRIC countries] are continuing to invest in infrastructure development that is likely to lead to growth in both truck and engine needs."
Will globalization ever produce a universal truck? Opinions are mixed.
With vast usage requirements for trucks in different parts of the world, Bass doesn't see it happening.  Klesing agrees, and says a global truck seems far-fetched, but believes interchangeable global subcomponents could enter the market when the world is ready.
Whether they do or not, Calhoun advises the aftermarket to prepare for anything.
"That genie [globalization] will never be put back in the bottle," he says. "I think we're going to continue to grow on the path we're on."
Adds Menta, "The world has gotten a lot smaller, and I don't see that ever going away."