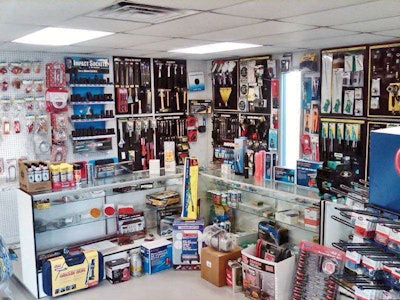 Having a contact list tailored to your location is the quickest way to find a part in need.
To build a contact list, you must first identify every option you have for finding a component. This includes your other locations, vendors, other distributors, dealers and even other customers.
When a customer is relying on you to get something for them fast, you can't leave any stone unturned.
Ed Neeley, president at Truck Supply Company of South Carolina, recommends to first contact your other locations and see if one of them has the part.
Dave Lippoway, regional manager at Fort Garry Industries, says 85-90 percent of Fort Garry's inventory is standard throughout its locations, which means if one facility is looking for a common part there's an excellent chance another will have it. And rare parts can still turn up in other locations, he says, noting the percentage of variability in the inventories.
Some distributors also stock unique components at specific locations to cater to particular customers, or isolated marketplaces located close to that facility. Lippoway says the inventories at Fort Garry's locations near the Alberta oil fields are much different than their more urban facilities.
But reaching out to your other locations isn't a flawless approach.
If an unknown customer comes in needing a rare part, the odds aren't great that your other locations will have it. And even if one does, if it's several hundred miles from where you're standing, it might not be the best option, adds Lippoway.
"Every part we have under the Ft. Garry banner we can check company-wide in our [inventory] system," he says, "but we also have to look at the freight factor and use a little common sense."
In these cases, the next best option is to look at your vendors.
Neeley says his business relies on vendors who provide same-day and next-day delivery, and understand how important rush orders are to his customers.
"We don't deal with vendors that don't have that mindset," he says. "If they've got it, we will get it fast. I won't deal with a vendor who says he'll get it in a few weeks."
But what if a vendor doesn't have it, and you strike out cross-referencing your inventory?
This is where a contact list becomes invaluable.
You have to know who else in your area might have the part. Neeley says this means rival distributors and dealers.
Create a list of aftermarket facilities in your area and the types of components they sell, service or require. Then, when you're desperately in need of a part, consult your list and make some calls.
It shouldn't matter to whom. You can't afford to be picky.
"If a [customer] can't find something I will find a way to get it for him, no matter who I have to get it from," Neeley says.
He says customers are grateful when you can quickly track down a part they desperately need.
"That's how we build our business," he says. "We get [customers] what they need when they need it."
Finding a part Step 3: Update your inventory