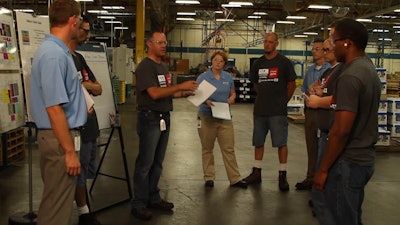 Eaton announces its plant in Auburn, Ind. has reduced the distance material and parts travel through the plant by 4.5 miles per day to help improve safety, ergonomics and efficiency. The improvements are part of the plant's Material Flow Project.
The Auburn facility designs, engineers and manufactures clutch components for the global commercial vehicle industry. Eaton says the Material Flow Project was initiated last year to address changes to Auburn's product mix and growing production volume – more than 50 truckloads of material a day come in and out of the facility.
"The project was a real team effort that involved machining, assembly, production, maintenance, materials, engineering and safety," says Ralph Beam, Auburn's plant manager.
To make the improvements, Eaton says team members conducted a thorough analysis of Auburn's overall manufacturing footprint and individual production cells, material storage, work in process, sub-assemblies, finished goods, packaging and shipping areas. They identified a 23-step improvement plan that ranged from moving equipment closer to workers and making greater use of transport carts to installing full-size bearing presses and relocating robotic cells and entire assembly lines. The project was completed in October, Eaton says.
As each step was implemented, production operators, supervisors and engineers responsible for the affected cell worked together to identify other opportunities for improvement, the company says. In one area, a new hoist with multi-speed controls was installed that is much easier for workers to operate than the previous system. Visual alerts have been added to trigger inventory replenishment within cells, and material now is delivered to the edge of the various work cells to eliminate forklift traffic within cells. Safety improvements included installing additional guards, bumpers and emergency stop switches. New visual controls identify safety equipment and procedures.
In conjunction with the Material Flow Project, Auburn employees installed high-efficiency lighting and fixtures from Cooper Industries, which Eaton acquired last year. Combined, Eaton says the new fixtures and sensors save more than 600,000 kilowatt hours of electricity per year and provide a brighter work environment. Also added was a high-efficiency air compressor that reduces electricity and gas consumption by 4.4 percent and 17.2 percent, respectively.
"Everyone at Auburn and throughout Eaton is committed to continuous improvement, which is reflected in our Materials Flow Project," Beam says "We also are sharing information and lessons learned from the project with Eaton's clutch facilities in Charlotte, North Carolina, and San Luis Potosi, Mexico."