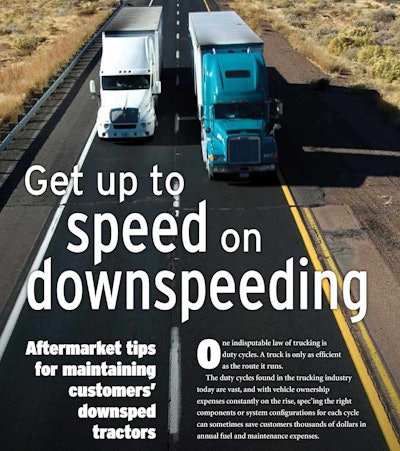 For customers with substantial on-highway duty cycles, one spec'ing option that offers significant cost savings is downspeeding.
"At its core, [downspeeding] means lowering engine revolutions at a given speed to improve fuel economy," says Tim Norton, product manager, Powertrain marketing at Daimler Trucks North America (DTNA).
The concept works by lowering axle ratios and increasing driveline torque to lower engine RPMs at cruising speeds, reducing friction within the engine and increasing fuel efficiency.
Downspeeding has been a known concept in commercial trucking for decades. But it wasn't until the recession of 2008 and corresponding diesel price spike that downspeeding transitioned from a fringe idea into an industry necessity.
Today, nearly every OEM offers at least one transmission and driveline package built specifically for downspeeding.
Good aftermarket businesses should be experts on all of them.
The maintenance requirements for standard and downsped systems are the same, but inadvertently replacing a part from one system with one from the other can have dire consequences. Downspeeding and standard system configurations don't mix.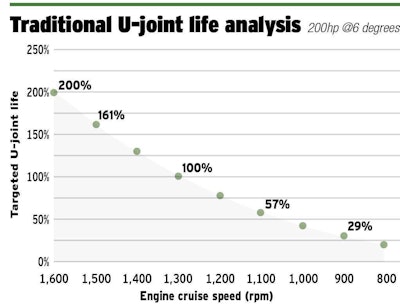 Customers committing to downspeeding today run high-mileage on-highway duty cycles.
Downspeeding, depending on diesel prices, saves those customers $300 to $2,000 per truck per year in fuel.
"For every 100 RPMs you drop [at cruising speed], you can expect about 1 percent fuel economy improvement," says Ryan Trzybinski, senior product engineer at Eaton.
Engines in regular powertrain configurations typically average 1450 RPMs at cruising speeds. Downspeeding saves fuel by bringing that number down by more than 300 RPMs.
"[Downspeeding] allows the engine to run at lower RPMs in its sweet spot," says Steve Slesinski, director of global product planning at Dana. "That improves fuel efficiency, and lowers green- house gases."
Lowering engine RPMs without impacting vehicle speed requires a significant increase in axle ratio speed, which increases torque across the axle and driveshaft, Slesinski says.
It its white paper on downspeeding, Dana notes driveline torque can be increased by as much as 29 percent when engine RPMs are lowered through downspeeding. This torque increase is primarily managed with more robust driveline and axle ratio combinations.
Eaton says the SmartAdvantage powertrain package, which pairs an Eaton Fuller 10-speed automated manual transmission with Cummins' ISX12 and ISX15 engines, scraps the industry's com- mon 3.42 axle ratio for a 2.64 ratio. Many other powertrain configurations reach the downspeeding threshold with a direct drive transmission and even lower axle ratios.
Engines have been adapted to maximize downspeeding's advantages as well, says Norton.
In the past, Norton says lowering engine revolutions to improve fuel economy required "using a faster [lower numerical] axle ratio, larger tires, or having the driver slow down.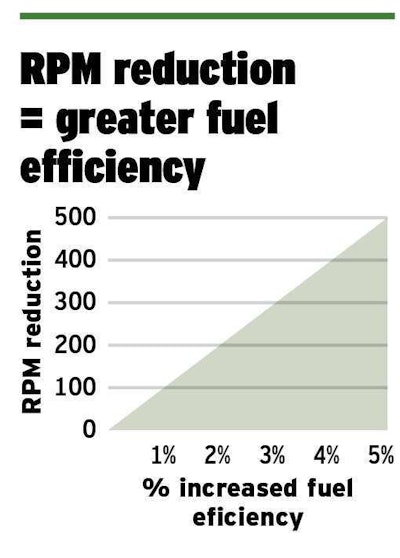 "These days, manufacturers like Detroit are designing engines to deliver power and torque lower in the RPM range, so the engine doesn't sacrifice performance when it's geared for lower RPMs."
Each option is supported by a clutch with enhanced vibration dampening capabilities.
Because torque pulsations are a greater risk to engines running at lower RPMs, Trzybinski says a clutch used in a downspeeding configuration must dampen torque vibration reaching the driveline.
"Since the engine is running at different RPMs, even at idle, we measure and test harmonics and vibrations extra carefully," adds Norton.
More robust bearings and U-bolts also are required.
"A powertrain that takes advantage of the efficiency gains from engine downspeeding requires all elements — engine, trans- mission, axle ratio and tire size — to work in concert to deliver the power needed to get the job done with the maximum efficiency," says Dana.
And Trzybinski warns that incorrectly replacing any component in a downspeeding system with its conventional model in the aftermarket can be disastrous.
Downspeeding configurations are built to function "as a unit," he says. The removal of any singular part will immediately lessen the performance of the system, and result in its premature failure.
Conversely, adding downspeeding equipment into other powertrain configurations or non-cruising duty cycles is equally problematic. The components used for downspeeding provide no fuel economy benefits when removed from on-highway cruising speeds, Trzybinski says.
He cautions against retro-fitting for the same reason.
For aftermarket businesses, Slesinski says the key is understanding the duty cycle of your customer base and stocking accordingly.
Though conventional powertrains have dominated the trucking industry for decades, the new vehicle market is flush with downspeeding configurations. And Slesinski says a lot of those trucks are at or nearing the threshold of the aftermarket.
Regular customer interaction and surveys are both good ways to identify what percentage of customers may be running downspeeding configurations.
"The type of parts used in both systems is a lot different," he says. "I would think [aftermarket businesses] would want to plan ahead."