The following comes from the January 2016 issue of Truck Parts & Service. To read a digital version of the magazine, please CLICK HERE.
Though 2015 will go down as a modest year for trucking industry growth, it was not without action.
The independent aftermarket landed a huge win in the Right to Repair debate with the announcement of a nationwide heavy-duty access to information Memorandum of Understanding in September. That was followed by a win for fleets in December when Congress passed a new highway bill eliminating most publicly visible DOT Compliance, Safety, Accountability (CSA) carrier rankings and requiring major revisions to the current program.
In the OEM sector, the biggest news of 2015 came from assembly lines. There are a lot of new tractors and trailers about to enter North America's roadways. By taking time now to get familiar with these vehicles, distributors and service providers can ensure they are prepared to service these units when they age into the aftermarket later this decade.
February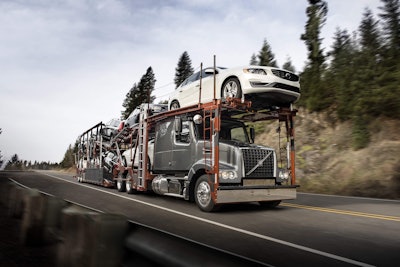 The first new vehicle announcement of 2015 came in early February when Volvo Trucks North America introduced its Volvo VAH 630. Available with Volvo's D11 or D13 engine, Volvo said the VAH 630 sleeper configuration was released to complement the day cab and smaller sleeper cab within the company's auto hauler family.
March
The first quarter closed a flurry of new truck announcements at the Mid-America Trucking Show as Peterbilt, Kenworth and Freightliner introduced new tractors at the Louisville event. Peterbilt's newest entrants to the marketplace were a pair of compressed natural gas (CNG) powered medium- duty trucks (Models 337 and 348). Both equipped with Cummins Westport ISL-G engines, the tractors are EPA 2013 and CARB compliant and available today.
Paccar's other new development was the introduction of Kenworth's new customized, premium ICON 900 tractor. Designed as a tribute to the company's long-standing W900L, the ICON 900 is available with a 72- or 86-in. sleeper, and up to a 600 horsepower engine.
May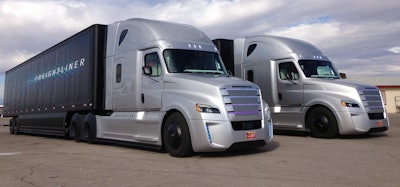 Last year also offered the first glance at Freightliner's fully autonomous Inspiration. Showcased at an on-highway test drive in Nevada, Inspiration is the first fully licensed and legal autonomous Class 8 tractor in North America.
Powered by a 10.7-liter Detroit Diesel engine and a DT-12 automated manual transmission, Daimler Trucks North America (DTNA) said the Inspiration was designed to help "alleviate fatigue by allowing drivers to cede control of the truck to the truck for long periods of time."
June
The summer months were met with big partnership changes in the medium-duty market, including the reintroduction of one of North America's oldest vehicle brands.
General Motors announced on June 15 that it would be partnering with Isuzu to introduce six low cab forward trucks for the 2016 model year. Based on Isuzu's N-Series, GM says the trucks will be available as gas or diesel-powered, depending on engine size, and will be compatible with refrigerated, box, stake/ flatbed and service bodies.
"GM will develop and manufacture the 6.0-liter gas engine, transmission and will provide technical support for this powertrain. Isuzu is responsible for vehicle development and manufacturing, including diesel engines," said Paul Loewer, General Motors Fleet, Commercial product and sales support manager – Medium Duty.
July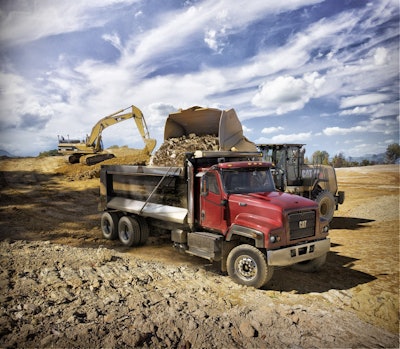 July closed with a breakup, as Navistar and Caterpillar ended a production partnership regarding CT Series vocational trucks. Set to officially conclude this year, both Navistar and Caterpillar "will have the opportunity to leverage certain joint intellectual property, collaborate with suppliers and utilize licensing agreements moving forward." Both companies followed the news by announcing they would begin production on independent vocational truck lines in 2016.
"We plan to stay focused on the vocational truck industry moving forward, said Ron Schultz, Global On-Highway Truck Group sales and marketing manager at Caterpillar. "During the transition period, trucks will be consistent with what you see today. Over time, our truck engineering and development organization will concentrate on new truck development and features to offer new products and services to our customers."
August
Just five months after Kenworth's ICON 900 was introduced, Fitzgerald Glider Kits added an ICON 900 and Western Star 4900 glider to its production line. The company said the gliders would be spec'd with three pre-2007 engine options, as well as three Eaton Fuller reman transmissions.
September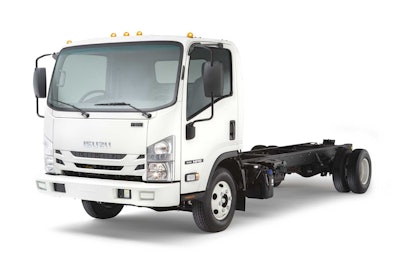 Isuzu made headlines in the OEM market for the second time in 2015 when it debuted its 13,000 lb. GVWR NPR Diesel. The Class 3 truck is available now, and features a 3.0-liter turbocharged and intercooled diesel engine that produces 150 horsepower and has an engine life rating of 310,000 miles.
General Motors and Navistar also formally announced in September a new long-term production agreement for Class 4 and 5 trucks. Hinted at as early as June in Truck Parts & Service's sister publication Successful Dealer, both manufacturers cited the new partnership as an opportunity to expand across the commercial vehicle marketplace. Production on the new trucks will begin at Navistar's Ohio assembly plant in 2018.
"GM will jointly develop the vehicles and provide commercial components and engines. Navistar will provide joint development, rolling chassis expertise and manufacturing capabilities," Loewer said.
November
A busy 2015 closed with Alkane Truck Company's announcement it would introduce a new Class 7 cabover to the market in the coming year. Alkane's production model is unique in that components for the tractor are outsourced to existing American suppliers and are assembled to specifi cation at the company's South Carolina plant. The company says the Class 7 tractor is equipped with an 8.8-liter engine that can support liquid propane autogas or CNG fuel systems.
For more on each of these new product releases, please go to www.successfuldealer.com.