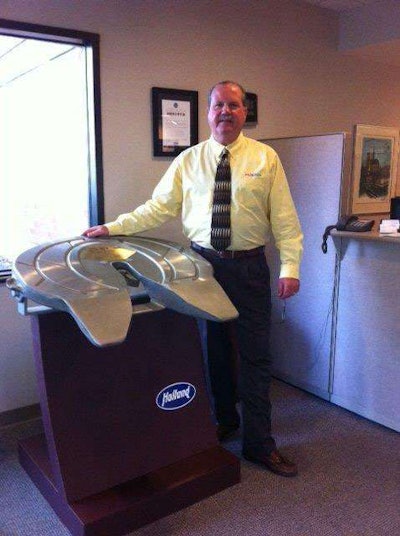 SAF-Holland Director of Field Service Rob Nissen was presented with the Recognized Associate Award at the recent Technology & Maintenance Council (TMC) Annual Meeting in Nashville, Tenn.
TMC says the award recognizes individuals who have made outstanding contributions to the improvement of equipment, its maintenance and support of TMC activities.
"For 60 years, TMC has worked to set and improve the standards for commercial vehicle maintenance and equipment," says Carl Kirk, ATA vice president of maintenance, information technology & logistics and TMC executive director. "Individuals such as Rob exemplify that in their work every day."
A TMC member since 1993, Nissen received TMC's Silver Spark Plug award last year. He has served on the Mentor and Member Contact Committees and as a judge for the TMCSuperTech competition. As an active member of S.6 Chassis and Brake Systems and S.7 Trailers, Bodies and Material Handling Study Groups, Nissen has chaired numerous task forces and served as both moderators or panelists for technical sessions.
He has assisted in the development of several TMC recommended practices on topics including proper fifth-wheel installation, wheel-end maintenance, safety chain maintenance, draw bar maintenance, pintle hook maintenance, upper coupler and kingpin maintenance, air ride maintenance, rear suspension inspection, ride height adjustment, trailer axle maintenance, and hooking up double trailers.
With over 45 years in the trucking industry and 23 at SAF-Holland, Nissen currently works as director field service, where he manages six regional service managers and one corporate trainer.