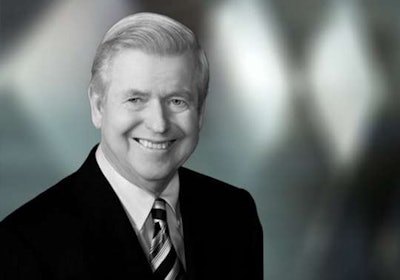 John M. Boler, Chairman of the Board at The Boler Company, the parent company of Hendrickson, has died. He was 81.
Boler began his career in the vehicle industry at Clevite Corp., and then worked at Gould, Inc., for several years before founding The Boler Company in 1977. The company purchased Hendrickson in 1978.
A wake for Boler is scheduled for 1 p.m. to 7 p.m. Sunday, March 13, 2016, at Smith-Corcoran Funeral Home, 185 E. Northwest Highway in Palatine, Ill. A funeral mass celebrating John's life is scheduled for 11 a.m. Monday, March 14, 2016 at St. Theresa Catholic Church, 465 N. Benton Street in Palatine. Interment will be private at St. Michael the Archangel Cemetery.
A graduate of John Carroll University, Boler was a trustee for 26 years at his alma mater and his philanthropy led to the naming of the John and Mary Jo Boler School of Business in 1996, as well as the D.J. Lombardo Student Center in 1994. In 2005 he received the University's highest honor, the Alumni Medal. His service as trustee and philanthropy to Rush University Medical Center also led to the naming of the Mary Jo and John Boler Centers for Advanced Imaging, and Rush's highest honor, the Trustee Medal, in 2015.
Boler served on and chaired the American Cancer Society's National Foundation Board, and supported many educational, healthcare and autism related causes around the country.
In lieu of flowers, the Boler family says to please consider a donation in John's name to one of his favorite causes: Rush University Medical Center AARTS Program (Autism), The Boler School of Business at John Carroll University, The Boler-Parseghian Center for Rare and Neglected Diseases at the University of Notre Dame, and Big Arts on Sanibel Island, Fla.
For more information about Boler's services, please visit his memorial at www.smithcorcoran.com.