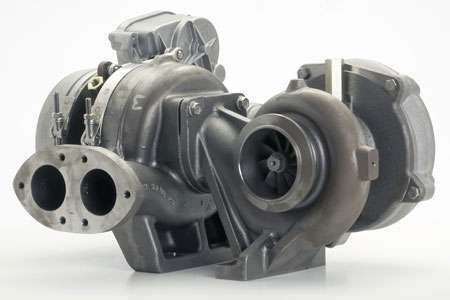 BorgWarner will supply its latest turbocharging technology for a new generation of medium-duty engines from Mercedes-Benz, the first commercial vehicle manufacturer to achieve Euro VI compliance for all of its medium- and heavy-duty engines.
The new OM 934 and OM 936 engines replaces the 900 series and are available in different output variants common of uses in medium-duty trucks and buses applications. The engines are equipped with BorgWarner's latest B-series regulated two-stage turbocharger, which helps reduce emissions while improving performance and fuel economy. BorgWarner also supplies its fans and fan drives for the new engine series.
"Compared with current standards, Euro VI emissions standards challenge engine manufacturers to reduce nitrogen oxides by about 80 percent," Pete Kohler , President and General Manager, BorgWarner Turbo Systems Commercial Diesel Products says.
The new Mercedes-Benz medium-duty engines cover the 5.1-liter four-cylinder OM 934 engine and the 7.7-liter six-cylinder OM 936 engine with a power range of 115 kW (156 HP) to 260 kW (354 HP). Both engines are equipped with variants of BorgWarner B-series turbochargers. The standard variant of both engines comes with the latest B-series turbocharger while the high-performance variant features BorgWarner's R2S turbocharging technology, featuring a small high-pressure turbocharger and a larger low-pressure B2 turbocharger. BorgWarner's recent B-series turbocharging advancements include titanium compressor wheels as well as electric actuators for the wastegate and turbine bypass control. BorgWarner also integrated parts of the exhaust manifold into the turbine housing of these applications for improved thermodynamics, compact packaging and simplified installation during the engine build.