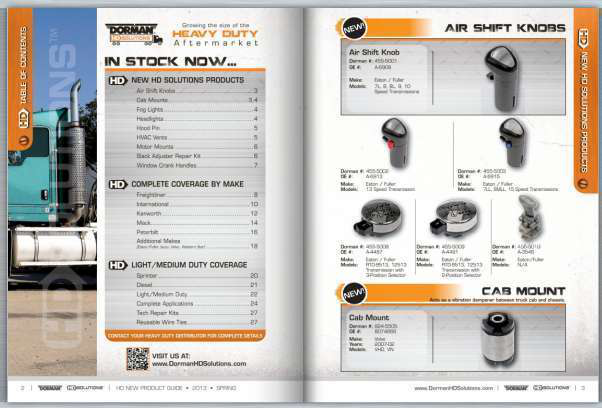 Dorman HD says it will release a new aftermarket product guide early next month.
The 28-page, full-color guide will feature the company's former dealer only parts offerings, including fog lights, headlights, HVAC vents and others. In all, more than 300 parts for light-, medium- and heavy-duty trucks will be listed.
For a complete listing of all the parts appearing in the guide CLICK HERE.
Dorman HD Director of Marketing Noam Chasan says a copy of the guide will be packaged with the May print edition of Truck Parts & Service. One can also be obtained by contacting a preferred HD distributor.
[youtube IlDPpTgt9-Y&feature=youtu.be&utm_content=Coming+Early+May%3A+HD+Solutions+New+Product+Guide&utm_campaign=HD+Contacts+-+Guide+%26+Video+Available!+&utm_source=iPost&utm_medium=email nolink]
Chasan added that Dorman launches new products "almost monthly."
An electronic copy of the guide is available now on www.DormanHDSolutions.com.