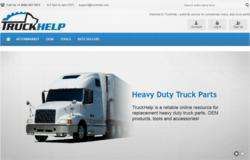 A new online truck parts supplier has entered the marketplace.
TruckHelp.com's inventory of heavy duty truck parts includes everything from intricate engine parts, to basic filter replacements.
The company says most of the heavy duty truck parts it has available come with a warranty and customer service tailored to each.
Many name brand heavy duty truck parts can be found directly on their website, the company says, with detailed product information given for each. The truck parts listed also come with a clear overview of their specifications and the model for which they are intended.
The website also offers an option to purchase parts in bulk for fleet needs.