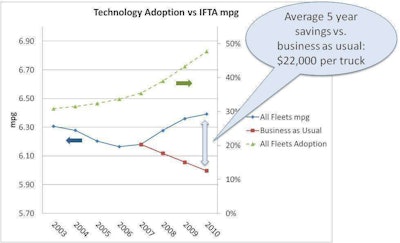 The North American Council for Freight Efficiency released its 2013 fuel efficiency study Sunday at TMC's Annual Meeting in Nashville.
Called "the most comprehensive study of Class 8 fuel efficiency adoption ever conducted," the NACFE says its study offers the industry a report of ten of the largest fleets with respect to the use of products and practices to support high levels of fuel efficiency.
NACFE says its report found those fleets saved on average $5,700 per year on fuel expense, or $22,800 over four years. This is a $1,300 savings per truck per year change from the original 2011 study, NACFE says.
According to NACFE, the study also highlighted successful applications of new products and practices that provide fuel savings during real-world usage, and it analyzed more than 60 technologies and practices available to fleets over the past several years.
The average purchased adoption rate of these products increased from 31 to 50 percent over the period from 2003 to 2012, and the average fuel economy performance of the trucks improved from 0.53 mpg against a business as usual prediction for emissions technologies and very limited adoption.
Fleet operating practices were were adopted at almost 90 percent, and tire and wheel advancements moved from 15 to 35 percent, NACFE says.
"One of the most insightful findings and useful data for all stakeholders from the report is the detailed technology adoption experience by the fleets, this can be used by your team to identify how your particular strategies match the other fleets in the study," says Mike Roeth, executive director of NACFE.
The survey included more than 41,000 tractors and 125,000 trailers averaging 109,306 miles per year. The fleets totaled more than 4.5 billion miles, and used 673 million gallons of fuel.
For more information on the study, go to www.nacfe.org.