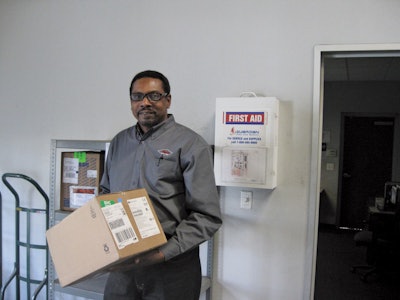 For a distributor or repair garage, the idea of an OSHA inspection can be frightening.
Last week, we took a look at how to prevent an OSHA inspection. However, once they're on-site, you pretty much have to deal with it. In the second part of our series, we take a look at how to properly handle on OSHA inspection.
A consistent safety focus greatly reduces your chances for an inspection, but when an inspector does arrive at your door, don't fret. Follow your protocol and you will be fine.
Laurie Medina, Betts Company's director of human resources, says the first step in her company's plan is to welcome the inspector to the facility and gather information about the visit. Then Betts' corporate headquarters is notified.
This is an excellent first step, says Eric Schmitz, vice president of product and business development at KPA Online. By gathering information before an inspection begins, you can create a strategy for how you want to guide the inspector, he says.
An inspector has the authority to go anywhere in your business, but that doesn't mean they need to — or want to. Only required scheduled inspections necessitate full-scale reviews.
"[Inspectors] can go anywhere, but they are just like you or I in that they have a list of things to do," Schmitz says. "If they come to your facility for one thing and can cross it off quickly, that might be all they need."
Being prompt, cordial and polite also can help minimize the length of an inspection. Greg Fenn, of KEA Advisors, says simple kindliness can go a long way.
"You don't need to roll out the red carpet; just be respectful and cooperative," he says. "As nerve-wracking as inspections may be, they are done for good reason. Be polite and [inspectors] will work with you."
"The inspections that go poorly are the ones where an inspector is made to wait, or handled with some sort of animosity," adds Schmitz. "I think [inspectors] realize they are causing you an inconvenience being there. All they ask is you treat them in a professional and polite manner."
Once an assessment begins, it is a good idea to assign an employee to guide the inspector through your facility. This allows you to take notes on what is inspected and answer questions.
"They will appreciate it if you help them," says Fenn.
Taking notes also allows you to double check your facility once the inspector is gone. It allows you to see where citations could come from and quickly make changes, Schmitz says.
But, he adds, don't be overzealous to correct a mistake if you see one during an inquiry. Some inspectors will not appreciate attempts to cover up possible fines. A quick acknowledgement of a mistake and immediate correction post-inspection is a better plan.
Schmitz and Fenn recommend sending documentation of corrections to OSHA as soon as they are made. The quicker they know you've fixed a mistake, the better.
"If an inspector finds 26 citations and 23 were immediately removed, and you have documentation to prove it, that might help lessen a fine," says Schmitz.
Ultimately, be proactive. Smart planning now means less stress later.