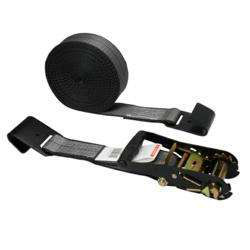 Web retailer USCargoControl.com has developed a new line of premium ratchet straps designed with stronger webbing. The BlackLine ratchet strap collection includes nine ratchet straps and five winch straps in 2″ and 4″ widths.
BlackLine straps boast higher break strengths than typical tie down straps: 2″ widths have webbing with 13,000 lb. break strength, while 4″ strap webbing features break strengths of 24,000 lbs. The straps have thicker edging that's created with a concentration of fabric, rather than wire or other topical enhancement. The more durable webbing not only offers more strength for applications, but also promotes a longer strap life.
Ben Rechkemmer, VP Purchasing for the company said the line of premium straps was developed to target a market of customers looking for more strength than typical tie down straps offer.
"We designed BlackLine because we wanted to provide an alternative product for customers who want the best tie down straps on the market." Rechkemmer said. "Not only is the webbing stronger, but the assemblies also have a higher break strength than straps available today, which increases the overallsafe working load limit."
Features of the BlackLine straps include:
    13,000 lb. webbing on 2″ straps
    24,000 lb. webbing on 4″ straps
    4″ ratchet straps yield highest Work Load Limit in the industry at 6,670 lbs.
    Thicker edging for long lasting durability
    Black powder coated ratchet assemblies on 2″ ratchet straps
    Easy grip ratchet
    Sleek black color scheme to coordinate with a variety of company colors and logos
    Competitively priced
The creation of the premium, branded line for US Cargo Control is a first for the company, but according to Rechkemmer will be just the start. "We do plan on adding to the BlackLine collection as we hear more feedback from our customers on the sizes and styles they're looking for," said Rechkemmer.
All BlackLine heavy duty ratchet straps, roll off container straps, and winch straps are labeled with their working load limit to meet CVSA guidelines, DOT regulations, and WSTDA, CHP and North American Cargo Securement standards.
About US Cargo Control
US Cargo Control was founded in 2005, offering products for the trucking, hauling, rigging, lifting and moving supply businesses through its US Cargo Control.com website. The company quickly expanded its brand portfolio to include additional web properties under the Clickstop company name, including EcoFoil.com, SpaceSavers.com and BellyBling.net. For more information visit Clickstop.com.