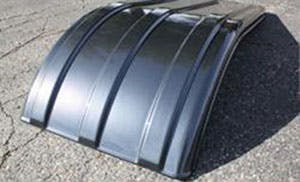 Minimizer has launched its new Carbon Fiber Poly fender.
"Carbon Fiber Poly has become such a popular look and feel," says Craig Kruckeberg, chief visionary officer of Minimizer. "We know there's market demand for this new product that combines a great look with the Minimizer poly features and durability you've always depended on."
Minimizer says production process begins with a thermal polyurethane material with a carbon fiber look, similar to that used in the automotive and power sports industries. Then, using Minimizer's proprietary thermoform technology, the material is shaped into almost any of Minimizer's fender styles at its manufacturing facility in Blooming Prairie, Minnesota.
"I'm really pleased that Minimizer now delivers a Carbon Fiber Poly fender that won't dent, crack, or rust," adds Kruckeberg. "Now customers that need a Minimizer fender to protect their loads, control spray, go off-road and on-road, and take the abuse their industry delivers can still have the customized style of Carbon Fiber Poly backed with Minimizer's tested and tortured, guaranteed for life brand promise."