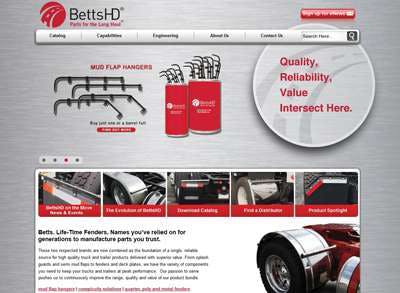 BettsHD has launched a new website, www.BettsHD.com, to compliment the company's rebranding initiative.
Betts Company recently announced the formation of BettsHD, combining legacy brands of Betts and Life-Time Fenders into a single reliable source for safety-related products focused on heavy duty tractor/trailer applications.
"Consistent with our unified marketing effort, BettsHD.com includes detailed product information, rich graphics and other useful tools for both fleet and distributor visitors," said Bill Betts, vice president, Betts Company. "Our website launch is another step in the process of introducing BettsHD to the heavy duty market."
BettsHD.com features a new dynamic catalog of the company's selection of spray suppression products including quarter fenders, poly and metal fenders, mud flap hangers and other related components.
Visitors can click through BettsHD product categories, continually refining the search on product attributes to easily identify solutions ideally suited for their application.
The complete BettsHD Mud Flap Hanger and the BettsHD Fender Products catalogs are on BettsHD.com and available as downloadable PDF files. In addition to mud flap hangers and fenders, the site contains all products offered by BettsHD including conspicuity solutions; bracket kits and accessories; application solutions; and custom design/manufacturing.