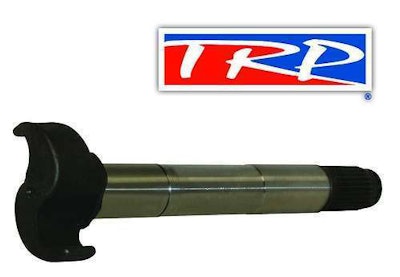 TRP announced Wednesday the availability of trailer camshafts and bushing kits.
The trailer camshafts and bushing kits feature camshaft head and induction-hardened shaft splines, forged camshaft heads, and a nationwide 12-month warranty. They are offered in a variety of sizes for all makes.
"The brake camshaft is the foundation of the truck and trailer unit's air brake system," Jeff Hughes, TRP development manager, says. "Worn camshafts can cause uneven or premature brake wear, which can result in decreased stopping power."
Worn trailer camshaft bushings can also ultimately lead to an out-of-service violation.
"If a state or federal roadside inspector finds that a missing or excessively worn camshaft bushing is causing excessive pushrod travel, worn linings on the bottom shoe, or some other brake defect, the inspector will likely note it and apply the 20 percent defective brake rule accordingly," Hughes says. "Since the TRP camshaft is manufactured using precisely calibrated computer-controlled equipment for reliable performance, it meets the demands of today's harder working brakes."
Since 1980, motor carrier safety officials and industry representatives from the United States, Canada and Mexico have worked together through the Commercial Vehicle Safety Alliance (CVSA) to develop uniform commercial vehicle inspections. CVSA developed protocols for inspections and the various criteria that warrant declaring vehicles out-of-service. The out-of-service criteria became the backbone of the Federal Motor Carrier Safety Administration's safety enforcement program:  Compliance, Safety, Accountability (CSA).  As a rule of thumb, an inspector can declare a truck or truck-trailer combination out-of-service when 20 percent or more of the service brakes don't work properly.