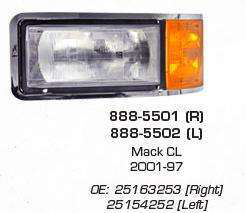 Dorman HD Solutions has added more products to its heavy-duty former dealer only product list.
The company is now offering a variety of headlights for Kenworth, Mack, Peterbilt and Volvo trucks, a Kenworth hood latch pin and a Volvo cab mount. All of these products are available from Dorman heavy-duty distributors.
For more information on these products and Dorman's entire heavy-duty product offering, go to www.dormanhdsolutions.com.