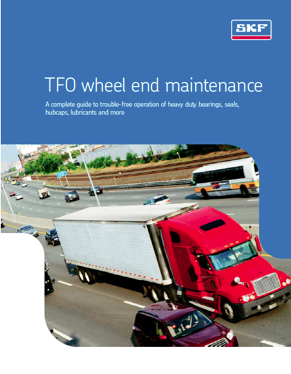 SKF says it has updated its TFO (Trouble-Free Operation) wheel end maintenance guide to provide the latest wheel end maintenance practices, detailed instructional materials and images for achieving successful wheel end maintenance.
The guide covers the SKF heavy-duty product line and offers general guidelines and warranties, detailed graphics and instructional materials for disassembly/re-assembly and failure analysis of bearings, hubcaps and seals.
The updated guide includes a new section with popular interchanges for tapered bearings, half stand bearings, hubcaps and Scotseal wheel seals. Other new features include QR codes with links to instructional YouTube videos for installing the Scotseal PlusXL and Scotseal Classic, and information about SKF technical training trucks, which deliver hands-on training to industry professionals just about anywhere.
"The updated guide is more comprehensive than ever including everything from updated imagery and product information to the new interchange section and information about SKF technical training trucks," says Doug Fike, heavy duty, product manager, SKF.
Additionally, the back cover of the guide now lists QR codes for quick access to the new SKF Parts Info mobile app and optimized mobile parts lookup website.