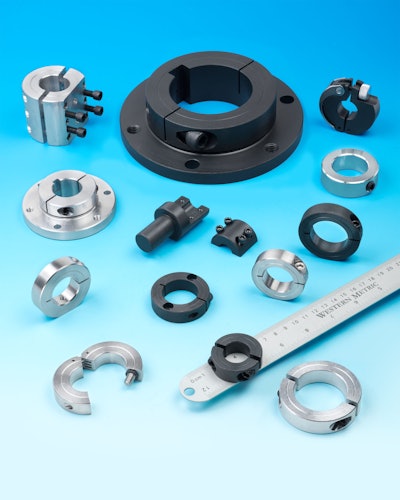 Stafford Manufacturing Corp. says it will roll out an expanded line of metric shaft collars, including couplings and mounting components in a full range of standard sizes and styles.
Stafford Metric Shaft Components features more than 500 standard parts including set-screw, 1-piece, 2-piece, and hinged collars along with couplings in 1-, 2-, and 3-piece styles, and English-metric adapters.
New products include heavy-duty flange mounting collars with wider construction and oversize clamp screws, Staff-Lok Shaft Collars that reposition without tools, flange collars, face mount collars, and thermoplastic shaft collars. Available in 3 mm to 80 mm I.D. sizes, Stafford Metric Shaft Components are offered in aluminum, steel, and stainless steel, plus Teflon, Delrin, and other thermoplastics, depending upon style.
Custom sizes and optional treatments such as wrench flats, holes, and knurls, can be provided for use in drive systems, conveyors, and processing and packaging equipment. Stafford Metric Shaft Components are priced according to construction and quantity. Price quotations and samples are available upon request.