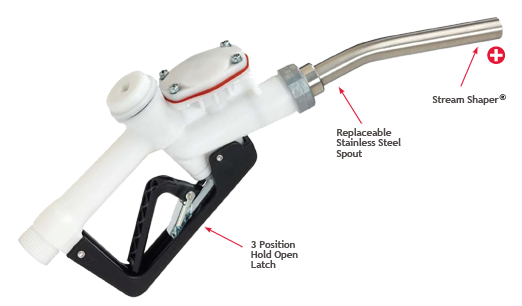 Husky Corporation says its polymer automatic shut-off diesel exhaust fluid (DEF) nozzle presents a new option for fuel marketers to conveniently dispense DEF from fueling islands.
According to Husky, its DEF polymer nozzle meets UL safety standards for the United States, required for hanging hardware on island dispensers.
Husky says island dispensing is likely to increase along with the growing number of diesel powered vehicles using DEF. The urea-based fluid is sprayed into diesel exhaust to breakdown harmful emissions. Husky says diesel powered tractor-trailers use about 15 gallons of DEF for every 1,000 gallons of diesel fuel.
Husky's the DEF polymer nozzle weighs slightly more than 1.5 lbs., thanks to a durable Acetal body, and is loaded with safety features including a stainless steel StreamShaper spout, automatic shut-off system, and Flo-Stop device. The nozzle has passed UL tests for long-term exposure to aggressive fluids and extreme temperatures, electrical continuity, high pressure, and cycle repetition without failure, the company says.
"The most difficult test is for long term exposure. We are pleased the components and engineering used in the DEF Polymer nozzle more than measure up to DEF nozzles that are heavier and more expensive," says Roger Wiersma, Husky Corporation product engineer.