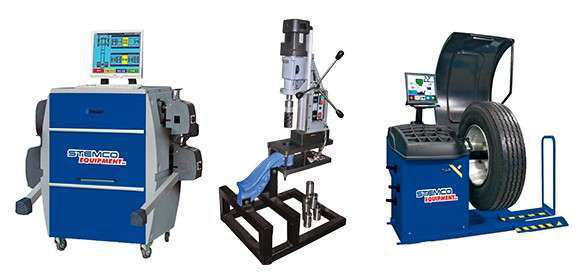 STEMCO has launched a new product line segment, STEMCO Equipment.
The mission of STEMCO Equipment is to provide fleets and commercial vehicle technicians with innovative service tools and maintenance equipment designed improve efficiency, the company says.
"STEMCO is respected in the commercial trucking industry for our high quality components and solutions that increase safety and reduce the expense of maintenance," says STEMCO President Todd Anderson. "Our new STEMCO Equipment product line will help further reduce maintenance costs by providing new and innovative tools to perform important procedures while safely reducing the time each vehicle is tied up in a shop bay."
The product line segment includes a new STEMCO Equipment truck alignment system, wheel balancer, power press and the proven STEMCO Axle Pro Equipment (APE).
STEMCO says the new products include:
The STEMCO Equipment truck alignment system allows fleets to set up and receive alignment measurements in less than three minutes through a wireless bluetooth data connection. The truck alignment system can diagnose alignment on trucks and trailers anywhere in the shop, without the need for a dedicated alignment bay.
Featuring TouchSpin Technology, the new STEMCO Equipment heavy-duty wheel balancer is designed to make wheel balancing simple, safe, quick and accurate.
The heavy-duty, industrial grade STEMCO Equipment power press can be used for replacing bushings, bearings and performing many other tasks around the shop.
Worn axle eyes are quickly repaired with the STEMCO Equipment APE system. Pre-sized, pre-hardened sleeves allow axle eyes to be resized in minutes, and a new bushing design enhances out-of-round axle eyes in order to achieve their maximum lifespans.