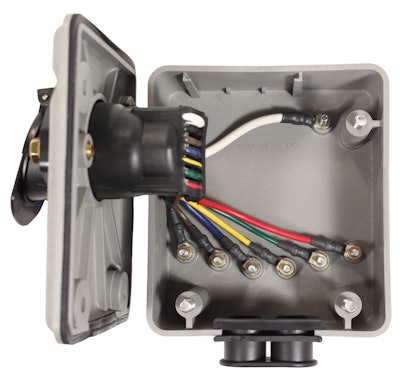 Phillips Industries has released the VOLT-BOX, the industry's first and only compact STA-DRY trailer wire management system.
Even with its slimmer design, Phillips says VOLT-BOX offers more interior room than the competition, keeping wires pinch-free and organized while maintaining the standard 7-way trailer mounting bolt pattern for easy retrofit. The durable STA-DRY housing seals the interior wiring against corrosion, chemicals and extreme weather, the company says.
The VOLT-BOX also includes Phillips' industry standard QCS2 (Quick-Change Socket), made with high impact composite material and interchangeable mounting holes, for fast and easy socket replacement.
The VOLT-BOX is currently available from Phillips' authorized dealers with either split (16-8000) or solid pin (16-80002) QCS2 and with the option to include Permalogic, the company says.