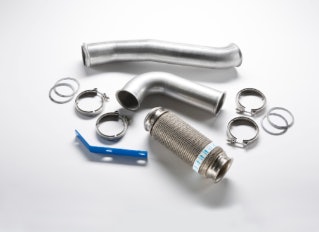 Alliance Truck Parts has expanded its exhaust product line to include torsional and standard bellows.
Suited for the heavy-duty market, Alliance says its bellows are the first true all-makes product of their kind in the industry. The bellows also are Tier 4 compliant, and built to meet or exceed tough EPA 2010 leak requirements, the company says.
"The launch of our new bellows marks the first time that drivers are able to purchase these exhaust parts as an all-makes product that can be used on nearly any truck make or truck model," says Catherine Auckland, director, aftermarket marketing, Daimler Trucks North America. "We are always looking to increase our product portfolio to meet customer needs. The launch of Alliance bellows is the result of a new opportunity in the market and feedback from our customers."
The new Alliance Truck Parts bellows are sold as kits that contain all of the necessary installation elements including clamps, gaskets and, in some cases, rigid tubes and support brackets to quickly service a vehicle. Along with an improved product design, these kits reduce installation time by up to 75 percent, the company says.
Alliance says the bellows also are backed by a one-year unlimited-mile nationwide warranty.