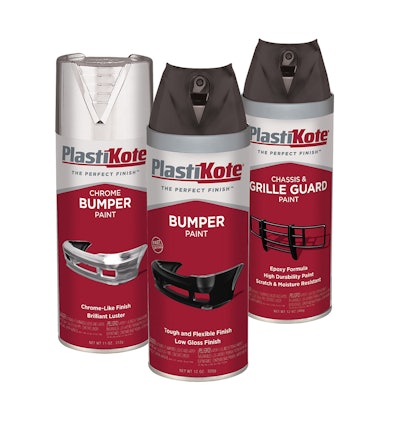 PlastiKote introduces its new Chassis & Grille Guard and Bumper Paints, which are designed to renew vehicle appearance and provide strong protection from the elements.
"Over time, vehicle bumpers and grilles can get nicked or suffer damage from the weather," says Shelley Potaniec, product manager, aerosols for Valspar. "PlastiKote Chassis & Grille Guard and Bumper Paints can make them look like new. Specially formulated, these professional choice paints are easy to use, dry quickly and provide the perfect finish every time."
The application-specific formulation of PlastiKote Bumper Paint revitalizes faded, weathered bumpers and side panel trim, giving them a rich, satin finish, the company says. Available in gray and black, PlastiKote Bumper Paint is low gloss and provides a tough and flexible finish. PlastiKote Chrome Bumper Paint also is said to renew and refinish chrome bumpers, grilles, hub caps and other accessories.
The PlastiKote Chassis & Grille Guard epoxy paint sprays on evenly and dries to a factory-like finish while providing long-lasting protection against the elements, the company says. It works well on prepared metals such as vehicle frames, roll bars and grille guards and is not affected by moisture. Available in gloss white, gloss black and satin black, PlastiKote Chassis & Grille Guard features a twist and lock cap that makes the spray painting experience easier, faster and cleaner than ever before, the company says.