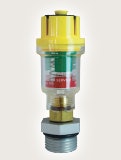 The Racor Division of Parker Hannifin introduces its Filter Restriction Indicator Kit for GreenMAX Fuel Filter Water Separators.
According to Racor, by installing a vacuum/restriction indicator in a fuel system, visual monitoring of filter condition is possible at a glance, increasing fuel system troubleshooting efficiency, eliminating guess work, and lengthening filter changeout intervals, the company says.
The new Filter Restriction Indicator kit includes a filter minder and threaded adapter to fit perfectly on a GreenMAX fuel filter water separator system, the company says.