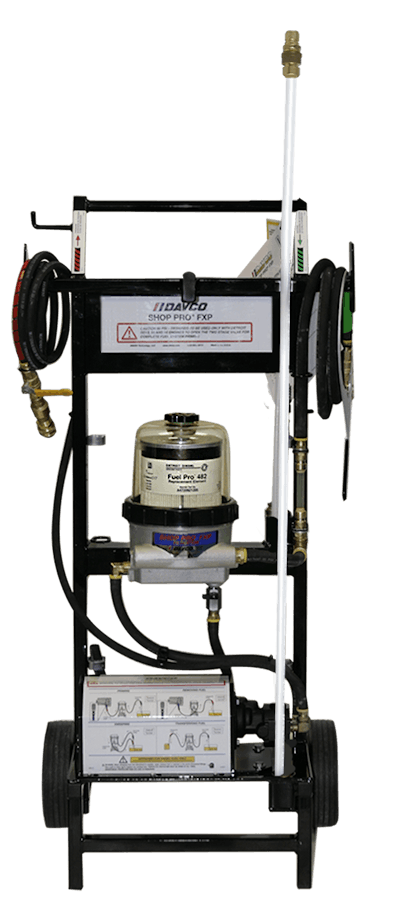 DAVCO Technology, LLC releases its newest Shop Pro, the Shop Pro FXP 95.
DAVCO says its Shop Pro products are designed to prime heavy-duty engines, transfer fuel from fuel tanks and to clean contaminated fuel in a vehicle's fuel tank.
Priming heavy-duty diesel engines with high pressure common rail systems can be difficult and time consuming. Using DAVCO's Shop Pro products eliminates the need to use a hand pump or maintain reserve fuel for priming in a separate tank, the company says. The Shop Pro filters and removes contaminated fuel, sediment and water in one operation while transferring fuel or cleaning fuel tanks, the company says.
The new DAVCO Shop Pro FXP 95 is said to have a higher output pressure to meet the Detroit engine EPA07 – GHG14 priming requirements. When replacing the fuel pump or fuel injectors on the Detroit GHG14 engines the new Shop Pro FXP 95 ensures that the fuel pump two stage valve opens and the complete fuel system is primed. There is an optional Shop Pro 95 model with a 50 psi regulator for use on other diesel engines, the company says.
The DAVCO Shop Pro FXP 95 incorporates the all-in-one "Seeing is Believing" fuel processor from DAVCO, multiple fittings/couplers and a 120VAC (115 GPH) motor/pump combination, the company adds. DAVCO warranties the Shop Pro FXP 95 fuel processor and cart for five years and the motor and pump for one year.