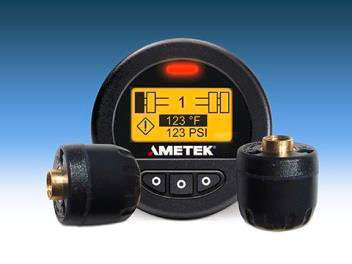 AMETEK Vehicular Instrumentation Systems (VIS) has partnered with Advantage PressurePro in offering an integrated CAN-Communicator 2-in. (C-Com 2G) graphic display that provides real-time tire performance data.
The fully digital gauge provides users with a durable and functional display option that easily enables original equipment (OE) or aftermarket installation, the companies say.
"By providing our real-time tire performance data to AMETEK's C-Com 2G Display, we've given our customers a simple yet ruggedized display option that works seamlessly across many vehicle types, including trucks, buses, recreational vehicles, mining equipment, emergency vehicles, agriculture equipment and more," says Edward Lutsko, PressurePro's technology manager. "The display's IP67 rating ensures its rugged performance in even the harshest of conditions, while its compact and viewable display makes it suitable for a variety of vehicle markets."
The integrated display provides real-time tire performance readings as well as PressurePro's complete lineup of tire alerts, including alarms for low pressure (2 levels of alerts), high pressure, high temperature, fast leaks and cross axle discrepancy, the companies say.
"We are pleased to join with industry-leader PressurePro in offering customers a tire performance management solution integrated with our C-Com line of custom dashboard displays and further extend the range of relevant vehicle information our system is designed to communicate," says Bill Day, Divisional Vice President of Sales & Marketing for AMETEK.