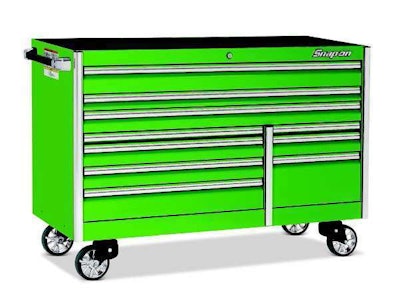 Snap-on has published a new Heavy Duty flyer, filled with hand tools, diagnostics, tool storage and more.
Among some of the products found in the 12-page flyer include:
SN36 1/2-In. Drive 36-In. Breaker Bar: Featuring a redesigned head, Snap-on says the new longer length increases leverage to break stubborn fasteners free. The SN36 is perfect for head bolts on heavy-duty applications and anywhere added leverage will make loosening a fastener an easier task, the company says.
MG1250 3/4-In. Drive Air Impact Wrenches: Snap-on says the MG1250 is equipped with a six-vane rotor delivering maximum torque and speed to remove fasteners. The grip and variable-speed trigger reduces user fatigue for those long days in the shop. Designed to provide extended tool life, the MG1250 features a twin-hammer mechanism capable of hard-hitting blows with fewer moving components, the company says.
EECS750 Advanced Battery System Tester: The EECS750 can be used to test new EFB start/stop systems and a wide array of batteries for autos, trucks, motorcycles and ATVs including a full range of battery voltages. Snap-on says the EECS750 features easy-to-access buttons, a comfortable horizontal handhold, a retractable hanger, 10-ft. cables, plus a full-color 3.5-in. screen. With a built-in printer for real-time results, Snap-on says the EECS750 epitomizes flexibility with eight language selections available on-screen and via printout.
KETN682AO EPIQ 68-In. 10-Drawer Roll Cab: The KETN682AO is from the durable, uniquely crafted Snap-on EPIQ series and is built to live up to the most demanding tool storage needs, the company says. Featuring three extra-wide, easily accessible drawers for storing frequently used tools, smooth wheels with ISO-Ride and easy-to-open InPulse drawers, the company says the KETN682AO is designed with the hardworking professional in mind.