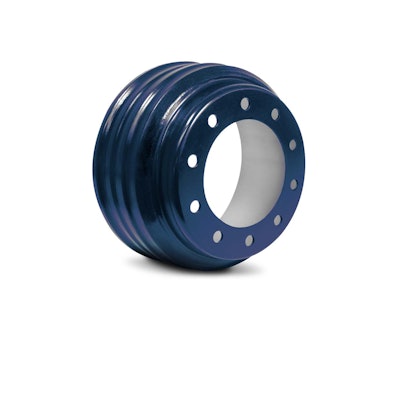 STEMCO has announced its CentriFuse brake drum product line will now have a new, unique blue color.
In recent years, overseas manufacturers have begun making brake drums that look like STEMCO Genuine CentriFuse products, but do not perform nearly as well. STEMCO says this leads to customers not receiving the quality, reliability, safety and weight reduction they are used to when purchasing STEMCO products. The new color now protects the integrity of fleet managers' investments by enabling them to easily distinguish genuine STEMCO brake drums from imitation products, the company says.
This change applies to Original CentriFuse, CentriFuse Lite and CentriFuse Wide. CentriFuse HD brake drums, which were changed from black to red in 2014, will continue being sold in their new red color, STEMCO says.
"Launching our Genuine CentriFuse brake drums in a new, easily recognizable color furthers our mission of making the roadways safer," says Jeff Bates, STEMCO segment business leader for brake drums. "Our customers deserve the reassurance that their fleets are equipped with products they can rely on. The blue color makes that easier than ever."