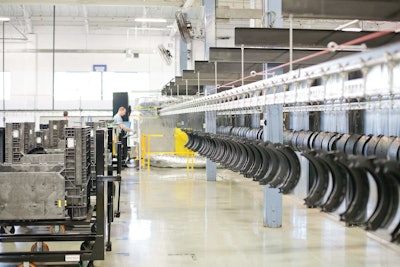 Bendix has reached a big round number.
The company announced earlier this week that its Brake Shoe Remanufacturing Center in Huntington, Ind., has assembled more than 3 million remanufactured brake shoes, reaching the milestone less than three years after beginning serial production of reman shoes at the facility.
Bendix handles the complete salvage, coining, and assembly processes that make up start-to-finish brake shoe remanufacturing in Huntington.
"Remanufactured parts aid fleets and owner-operators in putting safe, reliable vehicles on the road, while creating value by extending their life cycle," says Henry Foxx, Bendix director of remanufacturing. "And with Bendix shoes, they're getting a product from an original equipment (OE) manufacturer with the capability and expertise to ensure that the reman component is capable of the performance levels expected in today's environment.
"In fact, Bendix offers the same warranty on our OE and genuine Bendix OE remanufactured products, because we have that level of confidence."
At the Huntington plant, Bendix's nearly 40 years of experience in remanufacturing are combined with Bendix Spicer Foundation Brake's acknowledged leadership in wheel-end solutions and brake shoe manufacturing, enabling the production of reman brake shoes that offer the durability, reliability, performance, and extended lining life expected of original equipment, the company says.
Bendix Spicer Foundation Brake LLC (BSFB) is a joint venture between Bendix Commercial Vehicle Systems LLC and Dana Commercial Vehicle Products, LLC.
Opened in 2012 and significantly expanded in 2014, the 74,000-sq.-ft. remanufacturing center is part of the multisite Bendix manufacturing campus in Huntington. One of the largest employers in Huntington, Bendix maintains a total roster of more than 460 people.