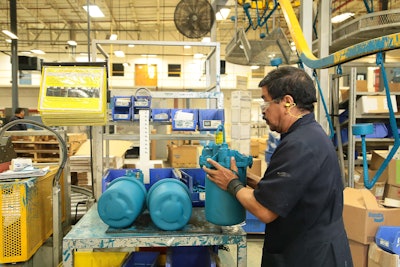 Bendix Commercial Vehicle Systems LLC recently shipped its millionth remanufactured AD-9 air dryer.
Bendix has been remanufacturing air dryers for 25 years. During that time the company also has shipped millions of remanufactured air dryer cartridges, recycling a significant amount of the desiccant in each. In diverting an estimated 4,000 tons of desiccant from landfills, the company maintains its commitment to helping fleets meet their sustainability objectives.
"We're proud of this milestone for our AD-9 dryer – 1 million units shipped is a testament to Bendix's long experience in remanufacturing air dryers and cartridges. That experience translates into OE-quality remanufactured air management components that are cost-effective alternatives to service new parts and a safer alternative to risky, low-cost knockoffs, which never get remanufactured," says Richard Nagel, Bendix director of marketing and customer solutions, Air Charging. "Also, fleets continue to place increasing priority on sustainability goals. Remanufactured components reduce environmental impact, and our practice of recycling desiccant in cartridges helps fleets even more in this regard. Not all air dryer remanufacturers are able to recycle their desiccant."
Bendix says desiccant is removed and recycled through an operation that removes impurities. A Bendix remanufactured air dryer cartridge will typically have a mix of virgin and recycled desiccant. Bendix also conducts extensive end-of-line testing, as with all its remanufactured products.
"Our goal is to reuse as much of what's in the field as possible, for maximum reduction of environmental impact," Nagel says. "For each air dryer we select for remanufacturing, our goal is to reuse a minimum of 70 percent of the material value in it. The reused material can include the cast aluminum housing, steel outer shell, and cartridge housing, which we may be able to reuse multiple times."