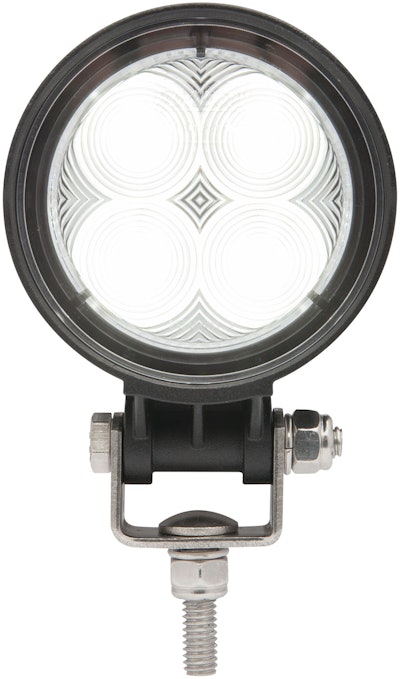 Optronics International has broadened its line of miniature LED work lamps with the introduction of its new Opti-Brite TLL30FB.
At just 3.25 in. in diameter, Optronics says the round lens of the new lamps is up to 35 percent smaller than comparable work lamps and, inch for inch, more powerful.
The TLL30FB's four LEDs produce a raw lumen output of 960, and its flood beam has an effective lumen yield of 670. The compact lamp is so small that it can be easily mounted on any vehicle with 4.5 in. of clearance and comes with a durable stainless steel mounting bracket. The lamp is designed to accommodate both 12- and 24-volt electrical systems, the company says.
The new Opti-Brite TLL30FB is the third miniature LED work lamp to be introduced by Optronics and, like all other work lamps in the Opti-Brite line, will now be covered by the company's one-diode lifetime warranty that replaces the lamp if even one diode fails. Optronics passes along savings created by advances in technology and production efficiencies, and the new TLL30FB will be rolled out at a highly competitive introductory MSRP, followed by significant price reductions on all other Opti-Brite LED work lamps, the company says.
"With better value, better options and a better warranty policy, Optronics' Opti-Brite line is now poised to capture greater attention within our traditional LED work lamp markets," says Brett Johnson, president and CEO of Optronics International. "An IP69K rating on all of our Opti-Brite work lamps also means that users within heavy duty, work truck, off-road, fire & rescue, snow & ice management and refuse markets can rest assured that our lamps will stand up to hot, wet and dusty environments."
Like the Opti-Brite TLL30FB, all Opti-Brite LED work lamps feature reverse polarity protection, and, as with the new TLL30FB, most models are EMC R10 approved.
"We've been building our Opti-Brite LED work lamp line for a number of years now and we have the utmost confidence in this product's quality and durability," says Marcus Hester, vice president of sales and marketing for Optronics. "I don't know of any other lighting manufacturer willing to back its work lamps with a lifetime warranty."
The price reduction and extended one-diode lifetime warranty on all Opti-Brite LED work lamps will be effective as of Nov. 1, 2015, and the new Opti-Brite TLL30FB is expected to begin shipping at or about the same time. With the addition of its third miniature work lamp, Optronics now has an LED lamp to fit the required mounting footprint on virtually any vehicle, the company says.
"We have a work lamp for every vehicle application," Johnson says. "The introduction of our new miniature Opti-Brite TLL30FB LED work lamp, along with our price reduction and expanded warranty coverage, underscores our resolve to better serve the marketplace and to put work lamps everywhere they're needed on today's vehicles."