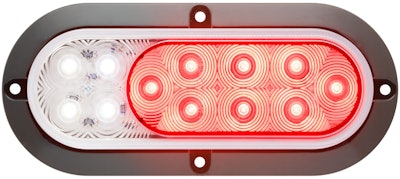 Optronics International is presenting its newly redesigned Fusion LED combination stop, tail, turn and backup lamp at the 2016 NTEA Work Truck Show in Indianapolis, Ind. next week.
Optronics says the new Fusion lamp is 25 percent smaller and includes new, optimized, circuitry that hosts both red and white LEDs on a single board, and a patent-pending optical design unlike anything else on the market.
The original 9 in. oval Fusion lamp was introduced at the 2014 Work Truck Show and has since been made available in 4 in. round and 6 in. oval formats with grommet- and flange-mount versions that fit virtually any standard lighting application. The entire family of Fusion LED combination stop, tail, turn and backup lamps are also being upgraded utilizing the new technology, Optronics says.
"We have completely reengineered the Fusion LED combination stop, tail, turn and backup lamp and the result is a superior lamp design," says Brett Johnson, president and CEO of Optronics International. "Our new Fusion lamps are smarter, more advanced and more economically priced."
The Fusion lamps have been radically redesigned and now employ a more advanced circuit board configuration and LED light projection technology that has a patent pending. Optronics says an optical bridge helps project red LED light from the red area of the lens to the clear area of the lens during the braking function. The innovative design enables the lamps to use fewer diodes, reduces heat load and lowers the overall lamp cost.
Optronics says mounting the new 6 in. Fusion surface-mount LED combination lamp requires only a 0.5 in. hole for the lamp's wiring and four mounting holes to accommodate rivets or screws. The low-profile, half-inch-thick LED lamp mounts snuggly to the vehicle's surface while preserving the vehicle's structural soundness, the company says.
"Our original Fusion lamps set a new standard in lamp design and functionality, and our new Fusion design continues that legacy," Johnson says. "We expect customers in work truck, heavy-duty, RV and transit vehicle markets to all be thrilled with these new lighting options."