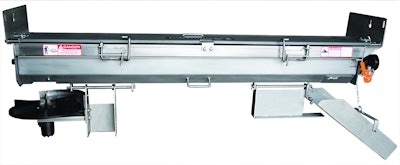 Buyers Products introduces its new SaltDogg Under Tailgate Spreader for trucks without central hydraulics.
Designed for 96-in. dump bodies, Buyers says the Under Tailgate Spreader (UTS) features a heavy-duty, 9-in. diameter auger with 3/8-in. flighting and auger screen, a 14-in. poly spinner and standard or center discharge. The spreader is constructed with 304 stainless steel and is equipped with two 12-volt, DC direct-drive motors, stainless steel dump body mounting plates, and sealed, self-aligning 1-1/4-in. diameter bearings with grease fittings.
Spreader materials can be discharged to either side of the truck, driver side for spinner and passenger side when using the optional berm chute with a material spread of up to 40 ft., the company says. For easy cleanout, Buyers says the UTS also includes an anti-flow plate, ball valve lockout, and a hinged, full-length trough.
"Buyers is excited to add the UTS to the SaltDogg family," says Dave Zelis, director of sales and marketing at Buyers Products. "This spreader provides powerful range and performance with a sleek and versatile design."