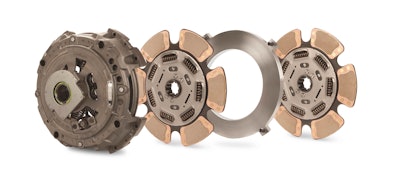 Eaton has added three new higher torque-rated clutches to its aftermarket portfolio of remanufactured clutches to better support the owners and operators of later model trucks, the company says.
Starting on Sept. 15, 2016, in torque ranges up to 2,050 ft.-lbs., the additions include two remanufactured Easy Pedal and one Solo design that may be specified for all makes and models of heavy-duty trucks in North American.
"Owners of older vehicles now have a new and better solution for replacing their clutches," says Ben Karrer, global product strategy manager, Eaton.
"Like all Eaton clutches, new or replacement, these remanufactured clutches strictly adhere to the specs and guidelines of all original equipment manufacturers to ensure longer life and trouble-free operation. It is an ideal opportunity for anyone purchasing their second, third or fourth clutch."
The Eaton Solo clutch features technology to keep the clutch in constant adjustment by continuously maintaining the release bearing position as the clutch wears. Eaton recommends the use of Solo self-adjusting clutches for all trucks with hydraulic release systems to reduce the risk of driveline damage. The Eaton Easy Pedal clutch utilizes a unique design to reduce pedal effort by as much as 50 percent to increase driver satisfaction and ease of operation.